The Internet of Things is the next great step in the technology industry, since it allows us to interconnect our equipments to better monitor, automate and keep control of the quality of our production. In this article you will find out how do we use the Internet of Things at Casa Sauza® in order to produce the best tequila.
What is the Internet of Things?
Tu summarize this answer, we can say that the Internet of Things is a concept that describes the interconnection that might exist between a device and any other devices surrounding it. The aim is to have all this devices communicating with each other. It also allows computers to interact with real life elements and thus, gain independence from human beings, so us, humans, can be in charge of more important matters.
Casa Sauza is a company known for its continuous improvement approach and thus, we are currently taking the next steps regarding the technological industry in order to improve our maintenance system.
There are different ways to give maintenance to equipment/machinery in the industry, the most common ones are preventive and corrective maintenance, some others include condition-based maintenance (predictive maintenance).
Condition-based maintenance
During the 15 years of experience that I have in the maintenance area, I've carried out several maintenance systems to ensure the optimal functioning of our machinery and avoided thus, breakdowns, minor stopping of processes and the wearing out of our equipment, being the latter one of the most frequent failure modes (a failure mode is any event that causes a functional failure).
By carrying a conditions-based maintenance out, we reduced the wearing out of our equipment yet, since we did not have a complete view of the behavior of critical variables, some wearing out of our equipment still happened. This made us look for a an autonomous equipment, one that would provide constant monitoring of the critical variables (Internet of Things), which are: vibration, temperature, shock pulse sensor (bearings) and amperage. These are some of the basic causes for the failure mode to occur. For example, vibrations, temperature and misalignments of pieces speed up their wearing out process. In the following images we can see how the vibrations and misalignments of pieces cause the wearing out of our machines.

Implementation of the Internet of Things
Before we implement the Internet of Things in a company, we first need to define why is it that we are doing it and study the benefits of an implementation. We afterwards need to decide on which equipments are we going to implement the Internet of Things. Afterwards, we choose the sensors as well as their communication method with the PLC (programmable logic controller). We then choose the way in which we are going to upload our data in a cloud so can have access to the constant visualization of our variables, even from a tablet or a cell-phone.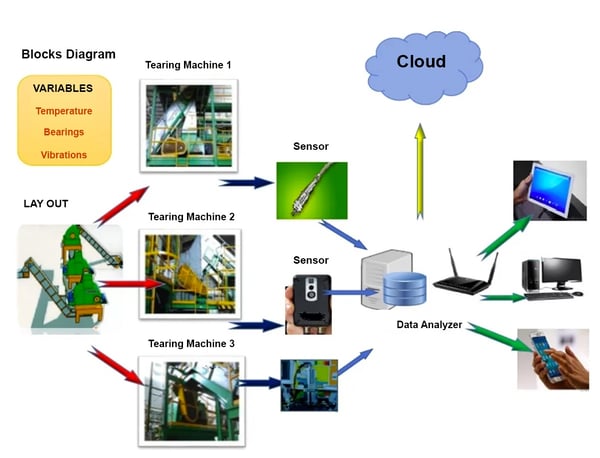 Benefits of using the internet of Things
With the Internet of Things, Casa Sauza has developed a whole environment that allows the following benefits to happen:
More controlled processes
Better visibility of operational events
Real-time information of critical variables and thus, a chance to make decisions ahead of time
Detailed follow-up of variables which allows the company to avoid:
Inefficiency
Wearing out of equipment
Stopping our production process
Possible future damages
Results of using the Internet of Things at Casa Sauza
Now that we can rely on the technology of the Internet of Things, we can visualize critical variables of our equipment from any place that we are at, we do not necessarily have to check them up on-site.
By being able to see this variables in a timely manner, we can take better decisions for the proper functioning of our equipments.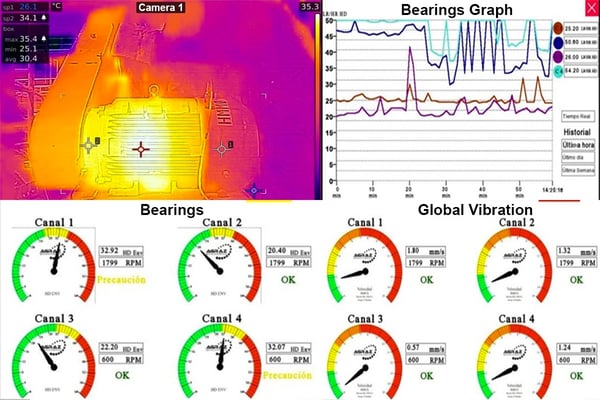 The image above shows the monitoring of the critical variables (such as temperature, vibrations and the condition of the bearings) of one of our tearing machines.
Our long-term goal is to have a totally digitalized plant, one that would continuously monitor our processes. By using this technology, we intend to maintain a zero-breakdown status in our factory and decrease the wearing out of our machine's components.
In my following blog posts I will talk about how to eliminate breakdowns and how to keep our equipments at a zero-breakdown level.
Click on the links below if you want to know more about Casa Sauza's continuous improvement processes:
Come and visit Casa Sauza so you can learn how the modernization of our production processes deliver the purest tequila that you will find in the market.