---

The distillation of agave carried out to achieve the purest tequila, is a process that Casa Sauza knows well. Its 143 years of tradition back this affirmation and so do the many national and international awards that ratify the quality of the product for which they work hard everyday.
The ability of Casa Sauza's staff to look beyond problems and actually take them as a chance to grow and transcend, has also been key to the success of this great tequila company.
The Power is in its People
A company's sustainability can't be achieved without the motivating impulse of its people. At Casa Sauza, every member who is part of the organization and who enriches it with his/her ideas when the winds are not favorable, is an indispensable piece.
Just like it happened eight years ago, when Casa Sauza did not have enough space to store its production. Two alternatives were considered: to create new storage spaces to safeguard our inventory or to adopt a new production system, Just in Time system, with which we would only manufacture what we were required to, in a more efficient way.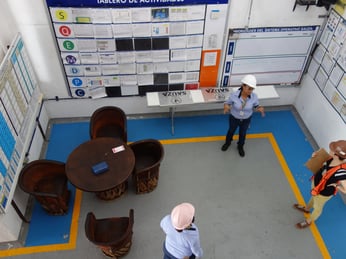 No Fear to Change
When one has an innovative vision, change is not a word that implies fear so, at that time, we even decided to follow a third way: the implementation of the TPM Japanese system (Total Productive Management). This system was considered the ideal mechanism to raise the quality of our production, reduce costs and eliminate losses by means of the transformation of the corporate culture, highlighting the importance of human capital.
This human capital was able to place this tequila traditional company in the 28th position of the 100 best companies to work in Mexico and keep up with its annual production of 3 million boxes. All thanks to the development of the sense of belonging of our people as a key factor, along with their autonomy and empowerment in the decision-making process, which benefits each area of the organizational chart, from the production level to the strategic one.
This is how we were able to reduce our losses by 45% and how our productivity doubled. At Casa Sauza, each member knows and develops its part within the larger gear that is the sum of everything and everyone's roles and efforts. This is how we all meet our goals in a productive way and manage to achieve a sustainable company. Every single part of the system matters and, by doing so, the whole works successfully.
Know more about our philosophy here.
Come and visit Casa Sauza and see for yourself how the modernization of our production processes delivers the purest tequila that you will find in the market.