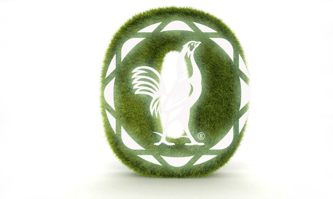 One of any industry's challenge is to achieve zero breakdowns in order to avoid re-works and stoppages of their production lines, since they translate into extra costs. Find out how we've handled this at Casa Sauza.
In the industry, the equipment's management is deeply influenced by three factors:
Special characteristics of their equipments
The nature of their processes, the breakdowns and failures in the installations
Their maintenance staff capability and functions
For now, we will focus only on:
How to Achieve Zero Breakdowns in our Equipment?
We will first define breakdown (avería in Spanish). The word (in Spanish) comes from the Arabic word: avaria < ár. 'awariya: damaged good, where the word damage is used as causing detriment. The way we define it at Casa Sauza is: the total loss of our equipment's functioning/operation.
What is a breakdown?
We divide breakdown into 2 categories:
Breakdown- when the loss of equipment's functioning lasts for more than 15 minutes
Failure or minor stoppage- when it lasts less than 15 minutes
In addition to problems with the equipment, industries usually suffer of process problems, which is why it is essential to prevent sudden stoppages of the plant. Process problems are often chronic, and caused by a complex combination of causes.
Equipment failures and process losses can be classified into five broad categories:
Equipment failures or process problems that end in stoppages
Quality abnormalities
Abnormalities that refer to unit consumption
Capacity reduction
Safety and environmental problems
Most of these problems are a result of abnormalities or disorders in the equipment. An industrial plant can avoid them if it manages to take those equipments and processes to their ideal perfect state.
Casa Sauza achievement: Zero Breakdowns at our Industrial Plant
At Casa Sauza, we have worked together to achieve zero breakdowns in our distillery area for more than 4 years to date. How did we do it?
I will start by saying that in my 15 years of experience in the maintenance area and 9 years of working with this great company, Casa Sauza, I have had many important challenges to solve. One of them has been to keep zero breakdowns in our plant. In order to achieve this, we had to first face the resistance to change of our people, since we had to change their mentalities from "impossible" to a "we can and we will do it".
After working on this, we were able to work closely and with the cooperation of both of our Production and Maintenance Departments. This cooperation is our key factor if we want to make sure that our Planned Maintenance program will be carried our efficiently. The best maintenance is the one that is not needed (because everything is operating accordingly).
This alliance's main asset is to really bring the equipment back to its basic conditions, in compliance with:
The maintenance standards established in the Production Department
The LALI standard (acronym for cleaning, tightening, lubrication and inspection in Spanish)
Standards established by the Maintenance Department
If any of these are not fulfilled, the equipment will suffer an accelerated -and ignored- deterioration. If this situation takes place, then it is useless to try to perform predictive or periodic maintenance.
The Maintenance Department can not achieve zero breakdowns under Planned Maintenance only. Neither can the Production Department achieve it only under Autonomous Maintenance. However, both departments can achieve significant results by combining both Autonomous and Planned Maintenance, when implemented consistently.
Now, there is more than this in order to achieve Zero Breakdowns. We must also correctly implement a Planned Maintenance system. We can do it by following the 7 Steps for Planned Maintenance since, in order to implement a Planned Maintenance System, we must carefully and previously plan and prepare it all. I recommend applying these steps according to the sequence proposed here and with the cooperation of the pillars involved.
7 Steps for Planned Maintenance
Analyze the current state of the equipment
Restore and improve the equipment
Prepare maintenance standards
General assessment of quality tasks
Make maintenance more efficient
Implement a conditions-based maintenance
Horizontal display
By correctly implementing these steps, our goal of having zero breakdowns can be met. We have successfully achieved zero breakdowns at Casa Sauza's plant and kept it like that for 4 years in a row (and counting).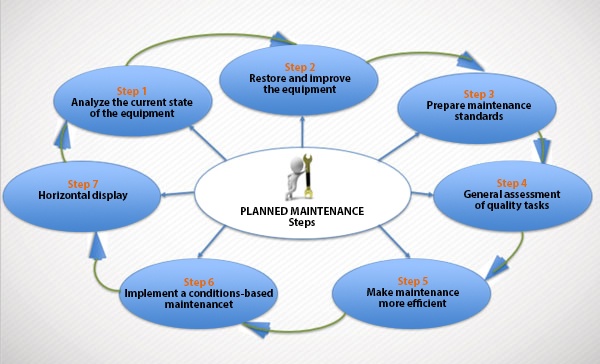 You can also come to Casa Sauza yourself and visit our distillery. We'd be happy to have you here and show you our facilities around so you can learn about the tequila production processes on-site.