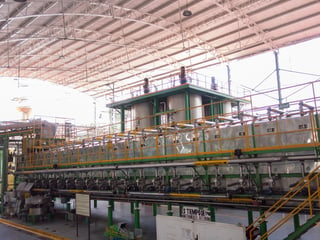 Whenever our Casa Sauza's visitors take a guided tour of our facilities, they usually ask us why we make our extraction process by means of a diffuser rather than with mills. The answer is simple: that is how we achieve a natural and gentle extraction of agave sugar. We must start by defining the following:
What is an extraction?
It is a mechanical, physical, chemical, biological -or combination of the above- procedure that allows the separation of sugars or carbohydrates from the agave plant.
How many means of sugar extraction for the tequila process are there?
There are three different methods:
1. Tahona Extraction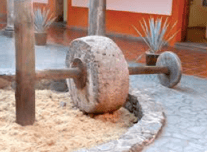 This extraction method employs a pressing stone (tahona) against the floor where a small bed of agave bagasse lies, squeezing thus the juice contained in the -previously cooked and torn-agave to extract its sugar. Unfortunately, although it is a very authentic (original) process, it is easy for the sugar to get contaminated with other elements (minerals from the rock or soil, elements of the surroundings...)
2. Mill Extraction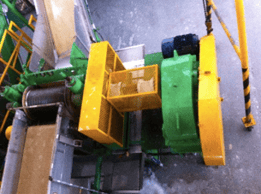 This extraction method works by pressing the previously cooked and torn agave with a series of 3 or more mills made of iron rollers, squeezing thus all of its juices to extract sugar and waxes.
Operating principle:
First, the agave is baked in an oven or an autoclave, then torn, and finally reaches the mill's extraction.

Agave input

Agave output
Recollection of the agave juice (sugar)
3. Diffuser Extraction: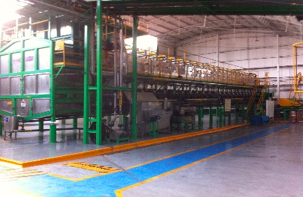 This extraction method is gentle; it consists of washing the fiber against the current of agave bagasse utilizing water. This is achieved by preparing a bagasse bed of agave -previously torn- on a conveyor belt. Next, water is added at the opposite end to the discharge side of the conveyor and is filtered through the agave bagasse bed and the perforated paddle belt of the conveyor or chain. Water then dissolves the sugar in the bagasse, giving rise to a sugar-rich juice, and then collects in a tub. This juice moves one stage forward using pumping, and the process repeats itself until it reaches its maximum concentration at the end of the diffuser. This is how we, Casa Sauza, achieve the purest form of agave sugar that can be found by employing the gentle extraction of agave sugar.
Operating principle:
First, the agave is torn when raw and then reaches the diffuser, where sugar extraction will be made.

With this information, I have helped you better understand how the agave sugar is extracted to elaborate tequila since each method develops different sensory notes in the final product. So now I invite you to discover the other sensory characteristics of tequilas that can be achieved with a gentle extraction process.

Come and visit Casa Sauza and see how the modernization of our production processes delivers the purest tequila you will find in the market.