My Professional Trajectory at Casa Sauza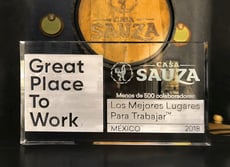 My name is David Juarez Flores, I coordinate the Packaging Line at Casa Sauza and I am proud to work here. I would like to share my story with you.
Ever since I was young, I dreamed about working at a tequila factory, especially at this great company, Sauza, or in Cuervo, because I considered them both the most prestigious ones.
There was this time when I took the initiative and tried my luck: I applied for a job at Casa Sauza even though I did not meet their requirements. One of them was that I had to have at least a middle school degree, and I had only finished elementary school.
Yet, at that time when I applied, Casa Sauza needed more work force and I was lucky to receive a call from them. I told them about my situation and they told me that due to the union's policies, they could only offer me a temporary 3-months-job but that once that time period was over, they could consider a long-term position for me. What happened afterwards? well...
On May 2nd, 2018, I celebrated 17 years of uninterrupted work at Casa Sauza. Perhaps a question may arise: how did I achieve all this? I think that the answer is having a determined initiative to work and to move ahead, never giving up until you achieve each one of your dreams.
Growth Activities During this 17 Years
At my first 6 months working at Casa Sauza, I was chosen for a position as an operator at the labeling line, which was a position that some operators had not been able to get in years. I felt really proud of being chosen for it.
After 3 years of working as an operator, they offered me a position in the Union. I was asked to perform several positions in it and I belonged to this Union for 12 years. I remember that the first Manager I worked for was Miguel Álvarez, a very smart man.
The second manager I worked for was Juan Daza. At one point, he asked a question to me: What was my goal in Casa Sauza? And my answer was to be able to sit in his office. To this day, that is where I am sitting, on one side. It was a dream that I had and I made it come true.
I achieved this and by doing so, proved that whenever you want something, you can get it. One of the things that I recognize of Casa Sauza, is that it provides its workers with the tools they need in order to get ahead. Thanks to their support, I managed to study middle school, a Technical Career and finish a Baccalaureate.

I here share with you some of my achievements: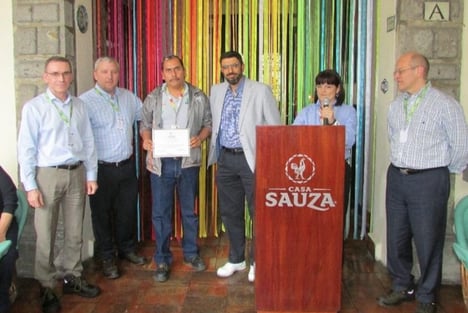 This is another image of an achievement, which thanks to the perseverance in this road of improvements and challenges, can be held at Casa Sauza.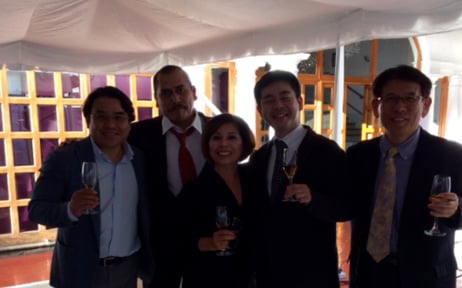 I consider that there is no other like Tequila Sauza. This is a company that continuously innovates and works on the development of its workers. I personally feel very flattered for the trust that they've put in me. You can see the results by yourself, I was able to achieve them because I belonged to this great group of high-performing workers.
Come to Casa Sauza, a GPTW company worth visiting. We offer several guided tours so you get to know Tequila, Jalisco, and Casa Sauza as well.