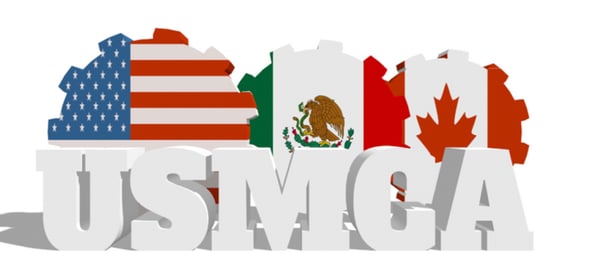 *Image USMA.com
Finally, after a round of negotiations with the representatives of the 3 countries, the signing of the USMCA Agreement between the United States, Mexico and Canada was achieved. This agreement is the result of the modernization of the NAFTA agreement, adapting it to the needs of the 21st century. To this end, tools are incorporated to:
Encourage development
The efficient use of energy resources
Promote the development of digital commerce
Facilitate digital commerce
Promote the competition of telecommunications
Strengthen the protection of intellectual property
The new trilateral USMCA agreement will increase the number of rules of the integration of produced goods and will benefit the region's producers.
Main aspects to consider:
The "sunset" clause proposed by the United States, which recommended the renegotiation of the agreement every 5 years, was eliminated.
The USMCA will be valid for 16 years, undergoing a review process every 6 years, with no possibility of exemption before the end of the term. During each revision, the extension may be agreed for additional periods of 16 years.
The agreement provides for the maintenance of a free trade market without tariffs for products that qualify as "of origin". Likewise, the prohibition to impose any kind of export tariffs continues.
Improves transparency tools in procedures for the issuance of import and export licenses.
It was agreed to include a section of biotechnology that encourages innovation in the agricultural sector
It is agreed not to apply subsidies to either exports or to the safeguard measures of the World Trade Organization between the exchange of signatories
Which benefits does this new agreement bring to the Tequila Industry?
The main achievement was to ensure the continuity of the Tequila protection as it was already established in the previous agreement. The Tequila has been acknowledged as a distinctive product of Mexico.
Geographical indications (GI) are the names of places that are used to identify the products that come from certain regions. Their goal is to protect the quality and reputation of a distinctive product. The USMCA protects GI, which benefits Tequila.
Tequila is considered as a driver for the economy, statistically speaking, 8 out of 10 bottles are exported to the United States, which is why the signing of the USMCA agreement boosts the tequila industry as well.
Tequila is already considered a key element for the economic development of Mexico, which is why, Tequila Sauza is proud to contribute to the economy and specially to promote tequila as our origin.
The official web page at where you can find all the sections of the agreement is: USMCA
In the following blogs, we will be updating you of the advances of the USMCA and talking about more topics related to the global trade and Supply Chain of tequila.
If you want to learn more about Casa Sauza, we invite you to come and meet us here in Tequila. We have several guided tours for you to choose the one that you like best.