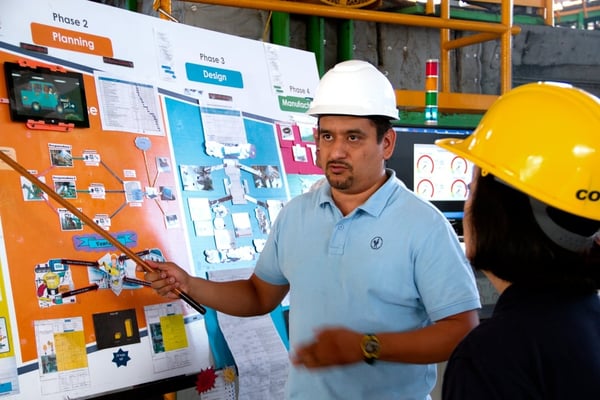 Since the year 1990, different training courses started in Casa Sauza wanting to achieve a total-quality. That was a year of constant coaching and training among the workforce when we developed an improved system in several production areas.
For many years, a lot of equipment was changed and innovated, and one of these big challenges was to transfer a bottling area from Guadalajara city to Tequila. Throughout this time we have implemented training courses for all our employees, constantly updating them to be able to face the coming changes and needs in Casa Sauza.
For the last 7 years in Casa Sauza, the personnel training development has been completely different, now it as self-learning training that has been implemented with the final goal of empowering our operation workers. By taking this course they are able to have a deeper conscience of what they're doing, why are they doing it and what for.
How can we know if our employees have learned something during their production processes in Casa Sauza?
Because the operators change their behavior through evidence in their performance, they don't need a constant supervision because now they manage things differently from the way they did it before. We can mention the following examples of the personnel's autonomy:
Security at work
TPM Boards Development
Improvement cases focused on the 16 big losses of Casa Sauza
Applying the 5's
Cleaner, safer and more organized workspaces
Autonomous Maintenance (experts in their operations equipment)
All of these behavioral changes have proved that our personnel has a higher range of competencies and skills to complete their tasks, following this system that was implemented in our company for the last 7 years.
The Casa Sauza training has been successful because of their unique learning style and especially in the based-in problems learning, that arouse day by day. Every opinion counts and they are very important in these groups where diversity is present and the learning styles are different for every individual.
What is a learning style?
Not all of us assimilate or understand what we live in the same way, there are some people who recall better what they listen, some others what they see and there are some people that need to practice something in order to remember it.
We all have different likings and preferences that allow us to learn in a specific way. This diversity enriches our training and fosters a proper environment where everyone can learn and evolution in their own process.
People have unique learning profiles and styles. Styles may change, depending on the tasks and situations that need to be done, and they can be taught. Each person uses their senses in a different way (sight, touch, hearing, and smell) developing learning mechanisms and strategies.
Learning styles can be changed and molded through life, they also able to be adapted to new changes in the environment, as in Casa Sauza.
Motivation during training
Motivation has been one of the most important factors to achieve team goals. Getting out of the comfort zone is one of the things that has position Casa Sauza as a worldwide company in the market, leading the way in continuous improvement systems that direct our industry to globalization and competence.
The efforts of the whole team have contributed for Casa Sauza to be spotted by many other companies. We can't say that we have achieved everything we wanted but we are on our way with the continuous improvement system. Training and coaching our employees has to be more challenging every time, because we want to be a company that grows along with its people.
It has not been easy, the training strategy has been re-directioned several times, to better focusing on our goals and continue moving and expanding. Thank you for reading this article, if you want to learn more about the strategies we have implemented in Casa Sauza read the following texts:
Come and visit Casa Sauza so you can learn how the modernization of our production processes deliver the purest tequila that you will find in the market.