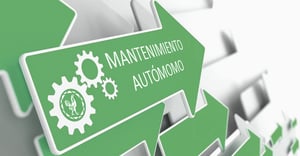 By applying Autonomous Maintenance, we keep the useful life of our equipment under good conditions since we avoid the deterioration of their components and by doing so, we reduce accidents as well as increase the productivity of our processes.
How do we apply Autonomous Maintenance?
Autonomous Maintenance is an activity that is carried out in the equipments/machinery. All of the staff related to the equipment gets involved so that they can develop an interest on their machines a commit to their maintenance by means of their:
Cleaning: We keep our equipment free of dust and dirt
Tightening: Helps us keep our equipment under optimal conditions
Lubrication: Keeps the equipment free of forced wear
Inspection: Provides us with the information/education that will help the operator of the machine better develop his senses. This information helps him become a sort of "human sensor" that will detect obvious abnormalities in order to keep the equipment restored to its optimal conditions.
(LALI standard for their acronym in Spanish: Limpieza, Apriete, Lubricación, Inspección)
Step 0: Safety
Get rid of accidents by:
Blocking the energy sources of the equipment before carrying out activities such as machinery interventions, weather it is for cleaning, modifications or tests.
Placement of signs, as well checking the procedure and verification of the padlock.
Check all the parts and accessories in order to avoid any type of accidental movement.
Identify the risks of the equipment, machinery or installation with which you may be involved, such as: moving parts, sharp objects, pinch points, chemical substances, temperature, etcetera.
Step 1: Initial Cleaning
Carrying out an initial cleaning will help us:
Become a "human sensor" ourselves in order to find the 7 kinds of obvious abnormalities so we can stabilize the equipment's operation by means of cleaning and inspection. We achieve this by using our senses to see and detect any abnormality when touching and observing the parts and components as we clean them.
By means of the cleaning and inspection of our equipment, we can prevent errors such as: loose screws or parts, breaks, wear, tears, misalignment, poorly made welds, badly made wiring, oxidation, contamination, oil leakage, unnecessary parts, broken or missing bands etc.
Step 2: Elimination of sources of contamination and difficult access areas
The elimination of sources of contamination (SC) helps us keep the equipment free of contamination of any kind of materials used in it and thus, simplify the cleaning, inspection, lubrication and tightening processes.
Taking care of the difficult access areas (DAA) helps us improve the access to difficult/hidden spots and avoid incorrect postures during the operation or the inspection process. By doing so, we avoid ergonomic and safety problems.
In order to better solve the SC and the DAA, we use the following concepts:
E- Eliminate the source of contamination
C- Retain and eliminate the spreading (C for "Contener" in Spanish: retain)
R- Relocate the contamination
S- Simplify by visual controls
How to give SC and DAA a follow-up
Identify the SC or DAA using a card: blue, yellow, red
Make a data registration matrix of each SC or DAA that has been found
Carry out an analysis of each SC or DAA in order to identify the immediate and systematic countermeasures that can be applied
Leave evidence of the countermeasures applied by documenting them in OPL


There are 6 questions you should ask in order to identify a SC:
What is getting dirty? Material, product or equipment
Where is it getting dirty? Part of the equipment and placement
When does it get dirty? During the continuous process, starting it of during format changes
Which is the pattern of contamination? Irregular spreading, focused, in a particular sector, what shape does it take, etc.
Which is the level of contamination? How much in what time?
How and why is it produced? Method, workforce, machinery, material
Step 3: Creation of provisional standards of cleaning, tightening, lubrication and inspection
The objective of carrying out the LALI standard is to help standardize the activities that the technicians must perform on each of their machines in order to prevent the equipment from presenting accidents, breakdowns, defects or losses.
The LALI standard is a guide that helps the technician apply autonomous maintenance in the same way, every time.
The LALI standard is made of:
The equipment's section
Equipment's diagram
Definition of the application: stopped or running machine
Activity
Standard
Method
Toools needed
Frequency of the carrying out of activities
Standard time to perform the activity
Actions to take if there is an abnormal situation of cleaning and inspection.
Key aspects for the carrying out of the LALI standards
Placement of visual controls that would help the cleaning, tightening, lubrication and inspection processes
Officially assign the time needed for the application of LALI as a part of a daily work routine
Establish the places, methods, standards, problem solving, frequency and goal time for applying LALI
Sources of information for the elaboration of a LALI standard:
Blue, yellow and red cards
SC and DAA matrixes
Maintenance routines
Equipment manuals
Cases of Improvement
Faillure analysis
Measurement of the evolution of the LALI Standard
Short: Reduce LALI time
Long: Increase LALI time
Longer: Increase LALI aspects
In this step, we seek to better understand the function and mechanism of our equipment and perform daily inspections based on knowledge and logic. During the inspection, it is important to focus on the small defects that are causing chronic losses because of faults and defects. We must find them and look for a solution by finding for the appropriate measurement to take on each case. In order to do so, the operator needs to acquire the ability to "measure deterioration", that is, to be able to predict problems of faults and defects in advance thanks to the general inspection activities.
The objective of this step is to improve the availability of the machine (life cycle) by carrying out general inspections in order to prevent forced deterioration on each of the parts of the machine: nuts and bolts, control systems, etc. As well as to understand the structure, functions and principles of the equipment through:
Failure mode matrix
Mechanical training
Training in hydraulics
Lubrication training
Training in electricity
Training in pneumatics
General machine tree
Machine tree by item
Operating principle
Surveys of critical components
Blocks diagram
Inspection sheet
Survey of abnormalities
Know why sheet
LALI standards
Results of the autonomous maintenance pillar up to step 4:
The results that are we can expect to see after applying these first 4 steps of the Autonomous Maintenance methodology are:
Change in the work culture
Packaging technicians with advanced knowledge in the fields of mechanics, hydraulics, electricity, pneumatics and lubrication
Equipment under basic/good conditions
Accident prevention systems
Analysis systems to prevent failures or breakages
Prevention systems to prevent defects or waste
Process standards for the LALI application
Maintenance focused on reliability.
If you would like to know more about Autonomous Maintenance in Casa Sauza, I recommend you read the following blog posts:
You can also come to Casa Sauza and see it all for yourself. We have different guided tours that you might be interested in taking: