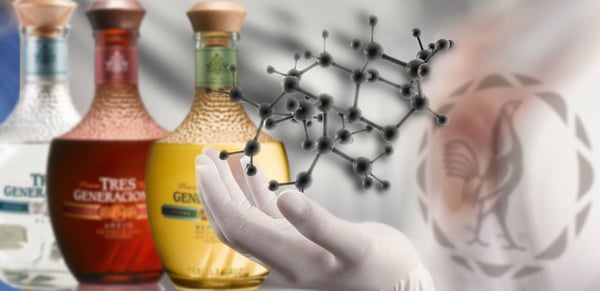 Of all the challenges facing tequila production, one of the main challenges is the compliance of all laboratory standards to produce a high-quality tequila. Learn about the care we put into this phase of tequila production.
Laboratory standards for tequila production
The standard that we must follow is the NOM-006-SCFI-2012, which are the requirements for the production process in order to remain compliant with the final tequila product guidelines. At Casa Sauza we have a laboratory for final product testing. Here we analyze the tequila before market release.

Our lab is certified by the Mexican Accreditation Entity (EMA), which has accreditation in international bodies such as the International Laboratory Accreditation Cooperation (ILAC) and the International Accreditation Forum (IAF).
Why does a tequila laboratory require accreditation?
Being accredited to a regulatory body such as the EMA (Entidad Mexicana Acreditacion), is synonymous with:
A competent laboratory
It has highly trained staff
Demonstrating technical competence
It has the right facilities
Validated equipment
Controlled environmental conditions
By formally recognizing the technical competence of our laboratory through the certifying body we ensure that the test results performed have a high reliability and precision.
Advantages of having an accredited tequila laboratory
Having an accredited laboratory has many advantages for distillate producers. Casa Sauza is no exception. Since the need for this service is presented at various points in the production chain and before market release of the finished product.
Among the main advantages it gives us are:
Reliable results: this gives us the confidence that the results that we obtain from our tests are of total confidence
Rapid market release of final product
Recognition in other countries
When do you evaluate an accredited tequila laboratory?
Our laboratory is subject to an annual evaluation by the accrediting body. This is to verify and ensure compliance under the established requirements. In addition to the certification, we also work on comparison tests with other laboratories to demonstrate the technical competence of the staff.
Come and visit Casa Sauza and see for yourself how the modernization of our production processes delivers the purest tequila that you will find in the market. Cheers!