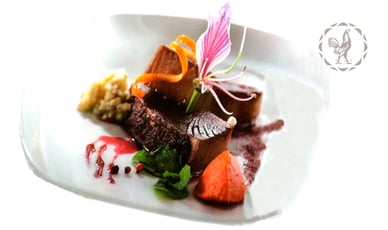 Manchamanteles literally means "tablecloth stainer" and it is a very typical Mexican dish. It is made with fish and fruits (mamey and apple). It also has some goat cheese in it, which makes its flavor a very particular one. If all these flavors weren't enough, that extra Hornitos® Silver Tequila touch certainly makes it a very special dish, one that will surely become a favorite.
This recipe serves 2 people and it is prepared in 70 minutes.
But what exactly is a Machamanteles? Lacquered slice of Huachinango in an apple and jamaica flower compote, garnished with an apple, mamey and roquefort cheese quenelle.
Sounds fancy, right? Well, wait no more, we here share our exotic Mexican recipe with tequila with you:
Ingredients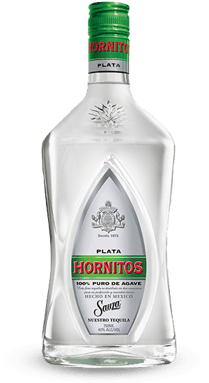 500 g Huachinango slice or fillet
Salt and pepper to taste
20 ml Olive oil
Sauce:
100 g Jamaica Flowers (Hibiscus)
300 ml water
5 Tsp sugar
125 ml concentrated fish broth
Garnish:
50 ml Hornitos® Plata Tequila
10 g butter
1 piece of Mamey (you can use papaya instead if you can't find mamey)
3 apples
125 g Brown sugar
100 g Goat cheese
1 pinch of ground cinnamon

Preparation
Clean the fillet and cut into 200 to 250 g slices. Season with salt and pepper, sear with oil and set aside.

Sauce:
Boil the jamaica with the water until it releases flavor and color. Remove the jamaica leaves and add the sugar. Cook over low heat until reduced to a 50% and set aside.
Cook the fish stock on low heat until its reduced to a 50% of your initial preparation.
Mix both reductions and once again cook over low heat until its consistency is of a 50%.
When the sauce is thick, glaze the fish with it and bake for 20 minutes in the oven (110 ° C/ 230 ° F).

Garnish:
Peel the apples and the mamey and remove their heart. Chop them into small pieces and set aside.
Place the butter in a saucepan until it melts and add the brown sugar. Then add the chopped fruit and beat until mashed. Add Hornitos® Silver Tequila and cook until the mixture hardens. Season with goat cheese and cinnamon, set aside.

Plating
Use a spatula as if it was a brush and "paint" the dish with the garnish puree. Place the Huachinango on top of it.
Hungry for more exotic Mexican dishes made with tequila? Here are some more for you to try:
Apple Chutney Salmon with Tequila
Tatemadillo Chicken with Tequila.
Come and visit Casa Sauza, our chef will prepare the best tequila-based dishes you'll ever have. Have a tequila-based dish right at Tequila, Jalisco!