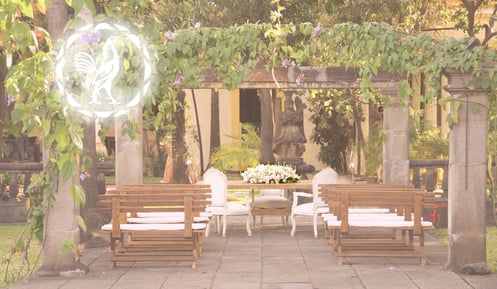 In the 8 years I have of experience working as a Wedding Planner for two of the largest and most important tequila companies in Tequila, Jalisco, I have come to completely learn and manage the concept of Destination Weddings. Discover yourself why making a wedding at an Hacienda offers an unforgettable experience.

It is always a great experience to imagine, create, transform and develop each wedding along with the Bride and Groom. That's what makes each event a unique and special one! It is always a challenge to plan a wedding, but when each couple's dream wedding finally becomes true, it is very gratifying for everyone.

In this blog, I will introduce you to the wonderful world of weddings, at beautiful destination wedding sites. More specifically, I will share with you the reasons for having your wedding at a Mexican Hacienda ... What magic can this place have? Have you ever even imagined having your wedding there?
Why should I have my wedding at a Mexican Hacienda?
Old Haciendas have this touch of Romanticism that makes you feel love is in the air. When you first arrive to the site and start working your imagination up about all the things you can get done there for your big day, you realize that everything can become special and unique; every space, every corner is extraordinary.
Regardless of the Wedding concept that you have in mind; Vintage, Modern, Classic, Antique, Mexican... this place becomes the perfect scenario for your event. There are spaces that won't even require that you create any special ambience, since its very own charm will become a part of the perfect atmosphere that you are looking for.

Day or night wedding
The advantage of these places is that you can very well plan your event either for the day or the night. Both options will end up becoming a dream event. In case you decide to do it during the day, the beautiful green gardens, the colorful flowers and the huge trees that go along with the bright blue sky, will offer an unparalleled mixture of colors. For this kind of wedding, we always recommend bright colors; you can choose the ones you like best for your wedding. You can also risk it a little and go for the current trend colors.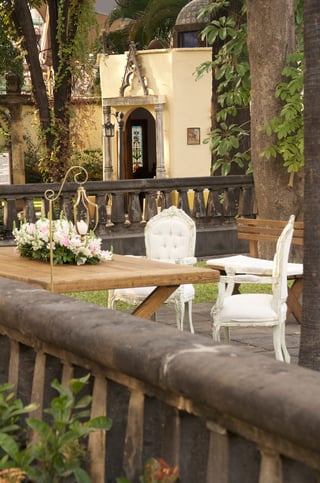 In case you have your wedding in a garden, you can choose to install German panoramic tents which without a doubt, will give a touch of elegance to the place. If you happen to find a garden with natural shade, then you can install umbrellas, pergolas or interwoven roofs in those parts where the sun might reach directly. By doing so, you will respect the look of the garden and keep it naturally beautiful, with just a touch of cool shade where necessary.
If you go for that time of the day in which you still have some daylight and then becomes the nighttime, you can make the whole thing look great by first enhancing those aspects that can only be displayed during the day and then those than can "show off" during the night. You can handle this transformation with the passing of the hours.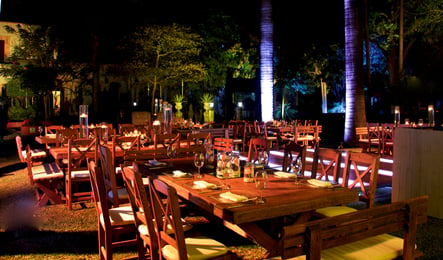 At night, you can fill every area with amber tones, which you can get with either candles or with vintage lighting -very trendy these days. This ambiance gives an unbeatable romantic touch to open spaces. In case there are many trees, you can fill with them with hanging candles, simulating fireflies...Can't get a more romantic site! It is always a recommendation for night weddings to keep your decoration colors in a low tone range, so they bring light to the event instead of making it look too sober.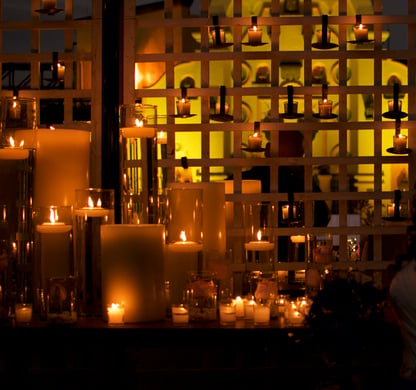 When you visit the Haciendas that you are interested in so you can choose which one is the perfect one for your wedding, don't forget to ask for their wedding planner so you get informed of the things that you can or can't do at the site, just so you don't end up hiring a service that the hacienda you chose might not allow to have.
Remember, many of these sites are considered of Human Heritage, so they are well preserved and protected. Wouldn't you agree they can be the best site for any wedding?
On my next blog, I will give you 10 tips that will without a doubt, help you realize that Tequila is the perfect place to have this great event, the event of your life! It is that magical town where you can make your dream wedding become true!