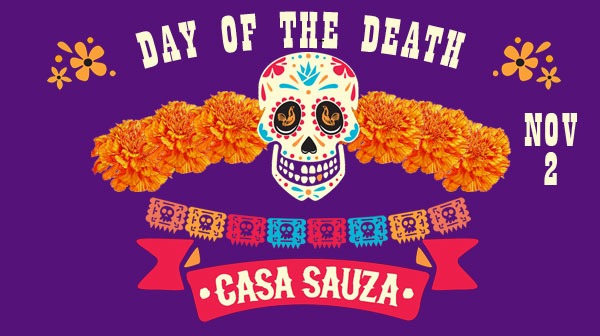 It is a day of celebration of remembering our ancestors and paying homage to them. Día de Muertos (Day of the Dead) is a worldwide known celebration celebrated in Mexico on November 1 and 2.
Considered Intangible Cultural Heritage of Humanity of Mexico by UNESCO, Día de Muertos is one of the most important festivities in our country. It is also celebrated in other regions of Latin America.
One of the essential elements of Día de Muertos is the altar de Muertos (Altar to the Dead), a structure in honor of those who are no longer with us with different ofrendas (offerings) such as flowers, candles, food, drinks, and photos of the deceased.
At Casa Sauza, we take this day very seriously to celebrate our ancestors with joy and respect. If you want to know more about this Mexican tradition and its origins, keep reading!
Veneration of the dead: present in all cultures
We inherited a holiday from pre-Hispanic times from different indigenous peoples of the region. In all cultures, there is some veneration of the dead, and the rituals of other peoples and the influence of the Spanish conquest created the celebration of Día de Muertos as we know it today.
Upon dying, it was believed that the person's soul traveled to Chicunamictlán, the Land of the Dead, and from there, it would begin a long journey to Mictlán, the final resting place. To help the souls on their journey, items used in life by the deceased and other items that they might need on their journey were placed on the graves.
And on Día de Muertos, souls must return home, so altars served as a guide and had the objective of helping the deceased find their way again. Over time, the objects used on altars changed, but today many elements full of symbolism and spirituality remain.
Day of the death today
A Mexican tradition that is still alive through celebrations, events, and each of the altars to the dead that families build on this day. The altar to the dead is one of the most representative elements of this holiday and serves to guide the souls home on that one night a year to visit their families.
Nowadays, altars usually have seven levels, representing the different stages the soul must go through to achieve eternal rest. But there are also 2 or 3 levels with diverse symbolism. These altars can be built in homes, in public spaces, or on the tombstones of the deceased.
At Casa Sauza, we want to honor our ancestors in the best way possible, and that is why every year, we create celebrations around this day. Visit our altar in Tequila, Jalisco, where we pay tribute to 3 generations of Casa Sauza tequileros.