Fortunately, in Mexico, land of artisans, we have a great variety of traditional objects that can help give your Christmas decorations a very Mexican touch. (Yes, we are also inviting you to come during this season!)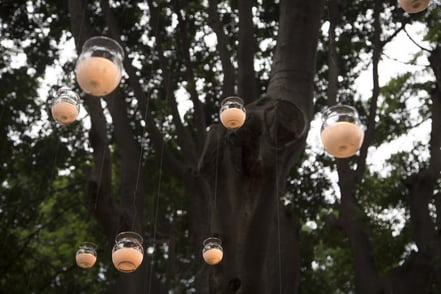 5 Mexican Christmas Decoration Ideas
1. Christmas Tree
For instance, you can decorate your traditional Christmas tree with:
Small Mexican handmade toys.
Christmas spheres woven with palm. You can find them in plain or mixed colors as well as in natural palm color.
Christmas figures made of of brass
Alebrijes (Colorful Mexican figures of fantastical creatures)
Blown glass figures
In short, our artisans make several Christmas products using traditional techniques and materials. It's just a matter of walking around local or craft shops (or markets) and choosing what we like best from such a large and varied offer.
2. Our Very Mexican Nacimientos
Nacimientos are Nativity scenes set up with the figures of Mary, Joseph, Baby Jesus, Shepherds, Angels and the 3 Wise men. Our Mexican artisans are very creative which is why, we may find them in many shapes, colors and materials, according to the region of their origin. They can be made from:
Jute
Corn leaves
Ceramic
Brass
Wood
Blown glass
If you are good with your hands, you may even want to make your own nacimiento using any of these materials. It doesn't have to be perfect, it should be fun to make and meet your own taste and expectations. If you make it yourself, you'll be able to choose its size and colors. The main figures that you should include are: Joseph, Mary, baby Jesus. That can be considered a nacimiento. You can also add the 3 wise men, shepherds, and stable animals.
3. Mexican Christmas Wreath on you door
Made of natural fibers and full of color. You can buy them or make them yourself. How to make one? Using a wire that forms a circle; it'll be the base to which you will add any decoration objects you want: Palm spheres, jute bows, Mexican rag dolls, brass figures (there are three-dimensional stars that are made with this material and are perfect for the occasion) ... Whatever you find in your craft market and you'd like to decorate it with!
4. Seasonal Piñatas
As we've already mentioned, this season's piñatas are different from the rest. Its round center and its 7 cones are characteristic of the Christmas piñata. They come in all colors and sizes.
This allows you to decorate the following with them:
Your Christmas tree, if they are small, like spheres
A wall, if they are medium-sized
Hang them from the ceiling or from any branch of a tree in your garden, if they are large.
You can even leave them resting on the floor, as a "Christmas corner". Probably using a large one at the center and placing piñatas of different sizes and colors around it.
5. Why not? A very Mexican Santa Claus, reindeer or snowman
Yes, we've already received a lot of influence from Anglo-Saxon Christmas, but we can also give it a Mexican touch, one that would match the decoration of rest of the house.
Top your Santa Claus with a Mexican sombrero
That snowman looks cold, throw a Mexican poncho on it
Those reindeers would look great with a Mexican woven scarf
Mexican Christmas Decoration
Be as creative as you can be! These ideas will for sure give rise to many others that you may come up with. The idea is to cheer up, have fun and experiment!
Your decoration can be very elegant, if you use neutral, silver and gold colors, or also very fun and less formal, if you use a lot of color and different elements. There are lots of options for all kinds of tastes! Of course, you must also first choose a basic style or theme, so you don't mix things randomly and end with a mess. Harmonize the objects according to what you want to achieve.
The beauty of giving a Mexican touch to everything, is that you don't have to limit yourself to the traditional Christmas colors (green, white and red, like our Mexican flag… we leave those colors for our Independence day, September 16th).You can feel free to fill your house with different colors: The spheres that our craftsmen weave are of different colors, our toys, blown glass and brass decoration, the same. Play with all the possible combinations you can make! Our recommendation is that you always use a neutral base color and add touches of different colors according to your tastes and what you have in mind as a project.
Download our free Christmas Ebook
by clicking on the following image: