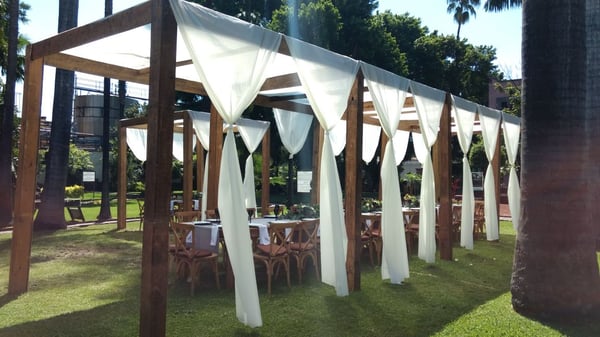 If you are in charge of carrying out some of your company's events, you must have heard of semi-roofed areas or gardens that you can use to hold your work sessions or meetings. Is it possible to hold an outdoor business event, though? Why should you? Let me tell you about the wonderful option that these kind of events turn out to be.
We are very used to the comfort that a closed space brings, such as air conditioning or the availability to darken the room for projections but, after a while, it can all become a little too routine, too ordinary and even tiring. For some, it might be exasperating or feel somehow claustrophobic.
On the other hand, holding activities in semi-open areas can help your participants enter into a state of relaxation and activate their minds in order to facilitate learning and increase their participation, their brainstorming. It isn't rocket science, it is easier than one might think: most of us are in a constant routine situation that generates stress, but when we come in contact with nature, we switch to this relaxed mindset that can be taken advantage of, in terms of helping people sit back and focus exclusively on the topics to be discussed in the sessions. In addition, you have wider open spaces that allow you to do integration activities, teamwork, stretch, or simply allow the participants to walk around during the periods of recess.
You can currently carry out this kind of events thanks to all the amenities that the suppliers of the Business Tourism Industry have been innovating with, such as double height awnings, led screens that without having to darken the environment, allow a perfect display of your presentations, as well as many other alternatives customized for each kind of event.
There are some things you must never forget about when holding these kind of outdoors events, such as the weather. A "little too warm" temperature can become annoying or even foster the presence of insects which would not let the participants concentrate. You should really look for an enjoyable and relaxing place.
Quinta Sauza is the perfect place to hold this kind of events. In addition, we can help you organize your whole event so it becomes a success. You can complement your working sessions with guided tours to our tequila production plant and to our botanic garden. We can also add some wine tasting and food pairing as well as many other activities that we can carry out in order to make of your event, a most wonderful experience for all of the participants. We are already waiting for you!