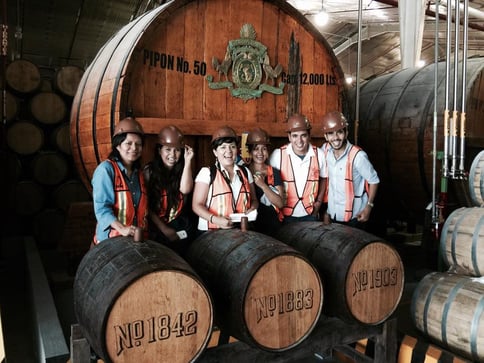 At Casa Sauza, we not only make the best Tequila in the world, but we also have the BEST TOURS OF TEQUILA, Jalisco. They depart from our visitor center La Quinta Sauza, an Hacienda that dates back to 1836 and the site from where our tours, which are positioned as best of this Mexican destination, start.
Which activities do we carry out at our Casa Sauza tours and which sites do we visit?
Here you can find from a basic tour to our distillery, to a tour that includes a visit to the botanical garden of Casa Sauza. We also offer our VIP tour, which is the Helicopter Tour: Tequila Flying Experience. In this tour, we take care of flying you to our tour's sites while you enjoy the beautiful views that Tequila has to offer from above.
Our tours depart from La Quinta Sauza, which is located in the center of Tequila, Jalisco. Here, our guides take our visitors to live this unique experience on board of our wooden trolleys, that look like a train. It will all feel like traveling back in time through this Magical Town, Tequila, until we finally reach the Botanical Garden of Casa Sauza.
At the botanical garden, you will be surprised to know all the different varieties of agave that can be found in Mexico. You will have the opportunity to plant an agave. Our jimador will also show you how he works with his COA, a tool used in the agave field to handle the agave crops for the production of tequila. He will welcome you at the agave field and show how he carries out his job, which has been known as JIMA, generation after generation. The word JIMA is a word in Nahuatl and in this language, it means to cut or shave which, in this case, makes reference to the cutting of the leaves of the agave.
After having this JIMA activity and explaining the whole process that we carry out in the field, we board our trolley again and take you back to Tequila. We then take a 10 minute drive around this Magical Town while we tell you the story about Tequila and its volcano, which gives name to our representative Mexican drink: Tequila.

Afterwards, we arrive to our tequila distillery, La Perseverancia, which dates from 1873 and its the place where the purest tequila in the world is made. You will here know the tradition and spirit of Casa Sauza, where every drop of tequila is made in a innovative way, with the highest quality possible.
Before starting the tour, you will be asked to wear the right equipment (which is provided to you) and pay attention to the safety measurements that must be followed during this tour, due both to the antiquity and modernity of our distillery.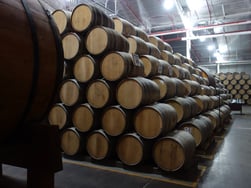 Our first checkpoint here is La Constancia, our tequila resting cellar which holds 10,200 American white oak barrels, which are imported from Kentucky IL. Each of these barrels holds up to 200 liters of tequila. You have to be here in order to see, smell and feel the wood and the tequila that is aging inside of them.

On my next blog post, I will talk a little more about how we live our quotidian lives at Casa Sauza. It is a great experience.
Come and visit Tequila, drink its history!