Mexican Night at Casa Sauza on 2017
I, Rafael Ramos, am responsible of organizing this event along with my team. We care about organizing everything so well, to the most minimum detail, so that it turns out to be a very pleasant and family-friendly event.
This is why I'd like you to join us in this Mexican tradition and of course, you should bring your children, family and friends along. Come and learn more about our culture and about the importance of this holiday, the Mexican Independence.
Why spend the Mexican Night at Casa Sauza?
Because as a part of our "Mexicanness", one of the things that distinguishes us the most is our national drink: tequila. Casa Sauza is one of the most important tequila factories in Mexico and, during this celebration, it opens its Quinta Sauza doors in order to receive you and your friends.
We always appreciate that you let us provide you with the best service that you'll find and that you let us share with you the great quality of our products.
In 2017, we received 400 guests in this celebration. They were all able to experience this unforgettable night. They participated in our Best Mexican Attire contest, for which they came dressed up as a charro. By doing so, they all helped make of this event, a thematic and very Mexican party.
At the entrance, we set a stage at which they all had their souvenir picture taken with a charro and a horse, and of course, the Mexican flag, which we couldn't not leave behind. Afterwards, our charro girls walked our guests to the main area of the event, which looked truly spectacular.
Within this area, our guests were able to enjoy some of the most traditional Mexican dishes, as well as a variety of cocktails at the open bar that we held throughout the event. We then started our Mexican Show at 9pm with live mariachi and singers of our national music, enjoying thus, 2 hours of a great Mexican medley.
Subsequently, the Declaration of Independence protocol took place: we honored our Mexican flag as well as the historic personalities of the Mexican Independence.
Finally, we closed the night with a guest DJ and lots of music and dancing. It was a great event where people had a great time and were happy to learn and experience one of our most Mexican traditions, which are usually very spectacular.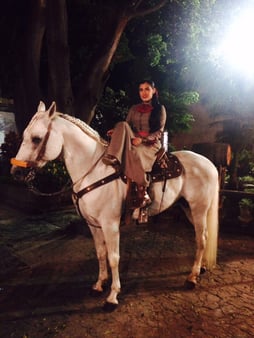 What do we expect for this 2018?
I suggest you don't miss our 2018 celebration of this national holiday at Casa Sauza. This event has been a tradition that we carry out year after year at our Quinta Sauza, a building that dates back to 1836 and tells its own story. Within its facilities, we welcome all visitors, both national and international.
In addition, it is a great way to spend the Mexican Independence Night, at which one can truly experience the three pillars of the Mexican identity:
The mariachi and its music
Our national sport, the charrería
Our national drink, tequila.
What could be better than spending the Mexican Independence with us, at Tequila, Jalisco?
2018 Deal
This 2018, as part of the celebration of our national holiday in Casa Sauza, when booking and buying your tickets on our website, we give you a free pass for our Perseverancia Tour, so that you can enjoy it on September 16th, at any of the following schedules: 12:00 h, 14:00 h, 16:00 h or 17:00 h. During this tour, you will learn everything about the process of making our signature drink, tequila.
If you have any further questions, feel free to contact us!