As we all know, this pandemic has been very a very hard experience everywhere; in our homes, businesses, and jobs. I want to tell you about my experience working at Sauza during this time.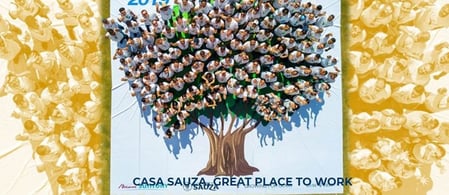 Working at Sauza
As many may know, Casa Sauza is one of the best places to work and as employees, we have many opportunities for growth. I've been working in this great company for almost 4 years now as a tourist guide and manager of international groups, and I couldn't be more proud!
Working During Covid-19: A new Experience
This year looked as if it was going to be a great one: We had many plans for 2020 and the year began with us having several events and groups booked. But then we were told that there was this COVID-19 virus and that we would have to be on a lockdown because it was declared a pandemic ... I really didn't know how to take the news, as many emotions invaded my mind.
After a month and a half of working from home, we were asked by Sauza to go back to our activities only that we wouldn't be working at our regular working area, the visitors center, rather we'd be working at the BOTTLING area.
The bottling area is one of the most extraordinary places within the factory, since the technology with which they work there is the best. As a tourist guide, whenever I came to this area in and showed it to the tourists, they -and I- loved it! But working in this area is a totally different experience.
I should mention that leaving one's comfort zone is somewhat hard, since one as a guide is used to crowds, people, tourism, contact with people, being outside and seeing the landscapes... Yet the adventure began when my colleagues and I met at the bottling area.
The first day was the hardest, since we didn't quite know what we were doing and the rules of this area were completely different from the ones we used to follow, they were more strict due to quality-control.
The second day was even harder, we were all in different areas, checking bottles and the such, doing things that were totally new to us.
A week after we were again working all together and putting tags on the bottles, I think being all together helped us feel better. We learned to spend more time together, to trust each other, to learn more about each other, which we needed as a team.
With the passing of the days we learned more and more from this new work area and the tasks that we were assigned to do at them, from the smallest ones, those we hadn't notice before that had to be done to a bottle, to the most important ones.
The best part of this is that we met our bottling coworkers; we learned about their job, every day. We experienced what they work on on everyday basis and it's not an easy job. I know appreciate even more all the effort that my bottling coworkers do and I thank them for it.
Once the tourism activities are back and we go back from the bottling area to the visitors center, I will be able to better explain the work that gets done in this area in which I was able to collaborate and learn.
Remember that in every bottle that you take home, there's a little bit of the effort that each of us who work at Sauza put in these bottles so that a great spirit drink is produced!