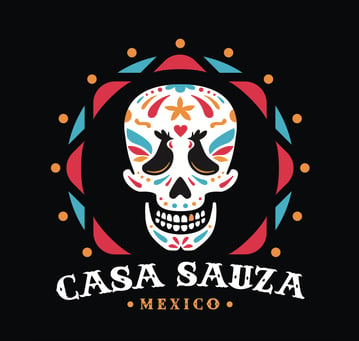 The Day of the Dead, a Gift from Mexico to the World
Mexico's celebration of the Day of the Dead has lately become increasingly known worldwide. However, this tradition dates from pre-Hispanic times and, to us, Mexicans, is nothing new. We have lived with the -now very trendy- catrinas ever since we were kids. The same with the altars for the deceased, pan de muerto (bread specially made for this day) and calaveritas (skull-shaped sugar candy).
Yes, the celebration of Day of the Dead is yet another gift from Mexico to the world. Celebrating life after death, knowing that this future life will turn into a reunion with our loved ones, is a gift of hope for anyone who wants to see death as a Mexican sees it.
This celebration also could also be an excuse for us to remember those Mexicans that in one way or another, have left their mark on this world and with whom, perhaps (if we're lucky enough!) we will someday meet in the afterworld. Here we go!
Mexicans that Became a Gift From Mexico to the World
Literature
Sor Juana Inés de la Cruz
Juan Rulfo
Carlos Fuentes
José Vasconselos
Octavio Paz
Painting
Siqueiros
Diego de Rivera
Frida Kahlo
Rufino Tamayo
Remedios Varo (naturalizada Mexicana)
Movies and Television
Mario Moreno, Cantinflas
Germán Valdés, Tin-Tan
Anthony Quinn
María Félix
Pedro Infante
Jorge Negrete
Music
José Alfredo Jiménez
Chavela Vargas
Juan Gabriel
Agustín Lara
Manuel M.Ponce
Consuelo Velázquez
Amparo Ochoa
Francisco Gabilondo Soler, Cri-Cri
Science and Technology
Guillermo González Camarena- Color TV
Francisco Sauza- Fostered the Denomination of Origin of the tequila
Manuel Sandoval Vallarta- Important contributions to theoretical physics
Luis Ernesto Miramontes- Formulated birth control pill (its main ingredient)
There are of course many other names that could be added to this list, but we had to stop at some point. We barely mentioned a few.
Mexico is its people, its a country rich in culture, traditions and in the development of science and technology.
Come and celebrate this Mexican tradition here in Tequila, cradle of Mexicanity. Visit our venue, Quinta Sauza, and enjoy this 100% Mexican tradition at the most Mexican site!
Contact us for more information on our Day of the Dead Celebration.
As long as we're alive, may the party go on! And afterwards? Well... afterwards as well!