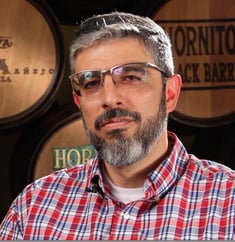 We had the opportunity to talk with Mr. Servado Calderón, Sauza's CEO, about the award he was about to receive from the Council of Industrial Chambers of Jalisco.
This is what he shared with us:
Mauricio Romero, Interviewer- Servando, tell us, what is this award you are about to receive on September the 11th about?
Servando Calderón- It's the Council of Industrial Chambers of Jalisco who gives it. Each of the industries in Jalisco has its own chamber, and in my case, it's the National Chamber of the Tequila Industry, with whom I'm grateful, who allowed me to receive the Distinguished Industrial award this year.
What stands out of all this, is the ability to collaborate, to work with colleagues in the industry, as well as with the Tequila Regulatory Council, in strengthening everything related to the Denomination of Origin, to the concept of Tequila. I think this denomination has obviously been good for the entire industry, but also for all of Jalisco and for Mexico itself. In fact, it's the 1st denomination that Mexico had and it has motivated or become an example for other denominations that have been afterwards forming.
It's a very interesting concept that starts from agriculture itself, from the production of the raw material - whether it's consumed directly, like in the case of the Ataulfo mango, or it goes through an agro-industrial process-, always highlighting the special features of the site who produce it, of its culture and well, this is something that has obviously been very interesting to me, and very important.
Mauricio- What would you highlight from the industrial processes regarding this award?
Servando- Something very interesting here, is the evolution that has been taking place and the changes that are always happening when we think about our consumer. Whether it's a process that we can call more traditional, or a process based on technology, it's always done because we keep our consumers in mind.
In our case, we have evolved in the use of technology. We want to get rid of those activities that do not add any value, not only for the company, but for the people who actually carry them out. For example, loading an oven by hand, adds nothing to the person who does it for 8 hours ... I put myself in their shoes and I see that, aside from working on a great physical/muscular development -it's undeniable that it requires lots of strength- it's very limited as a personal development. I think that we shouldn't only think about creating jobs, we should also worry about the kind of jobs that are being created.
So that's what we think about: evolution, keeping in mind our consumers, of course, but also thinking on the personal development of our collaborators. And when I say thinking about our consumers, I mean working on this growth but keeping our good quality the same, because we all want to grow! but growth brings challenges. We must maintain that quality consistency that we've always had and that's where, I believe, we can make a great use of technology.
Mauricio- The idea is then to combine technology with the development of people ...
Servando - But always keeping our consumer in mind, always thinking about them. The question is, how can we grow and keep that quality that our customers appreciate while also considering the development of our people? Because we all want growth, of course! But it growth entails changes, adjustments and also, making a better use of our resources.
For example, we avoid - and the intention is to eventually eliminate it - as much as possible, waste and pollution: water pollution... pollution of the environment itself. Sustainability is a fundamental issue that I think is on everyone's interest to achieve and by means of technology, we can get there.
I'm not talking only about a development ... I am thinking of technology and we probably relate it only to electronic or digital.. no! There's also development in the chemical-biological area. It's necessary to explore and implement this kind of technology, for example, with the use of digesters when it comes to wastewater recycling.
Growth is appealing, is good, is desirable, however, it also carries a responsibility. We must seek to grow but not only that, we must seek to not grow in pollution as well. We must want to have it reduced and eventually, eliminated. That's is a fundamental contribution.
Mauricio- What significant changes have you seen in the consumer and how have these changes affected this development?
Servando- There are different kinds of trends in our consumers. In our case, we obviously always have consumers that very loyal to the brand but new consumers also appear. An example of this is what happened with the Tequila Cristalino; It was something that I honestly didn't believe in ... Are you telling me that we'll take the color away from a rested tequila? It didn't make sense to me, however, making it softer, "lighter", has attracted for example, young people and women, within this category.
So that's one trend, but I think that, in general, it has diversified. I think the tequila offer is now broader, it covers more tastes, after all, what one person likes may not be that appealing to others. Then this, because it gives the opportunity to cover those needs finally. Needs in the sense of that, right? tasting, knowledge of the different tequilas, etc.
Mauricio- How have you adapted your processes to meet these changes in the consumer's demand?
Servando- What we look for in our processes as a main goal, is to keep our quality consistency and minimize fuel consumption. We've switched to gas fuel in order to reduce our carbon footprint. We also care about water recycling. So this is what you'll see in our process, on one hand, a low consumption of energy and on the other, keeping the consistency of our product. And finally, we address this whole recycling issue, our goal it to make it 100% sustainable.
Mauricio- Regarding the award, is there going to be an event, a ceremony? What about that?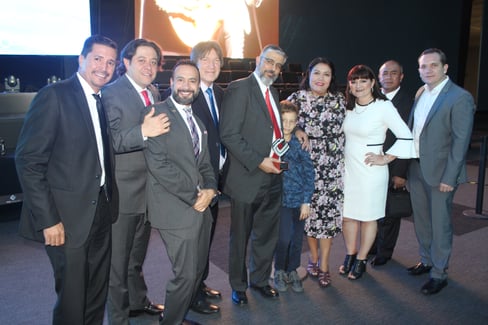 Servando- There will be ceremony and a meal held at the Expo Guadalajara venue, in which all the sectors of the Jalisco industry will be present. To me, it's a chance for celebration, gratitude, recognition, a chance to be among colleagues, which I think is important. This event has been held for 39 years now and well, more than anything, it means that to me: a chance to get together and spend time with friends.
Mauricio- Well, all we can say is congratulations, Servando

Servando- Thank you, Mauricio

And with these words, our interview ended. We thank Servando for the time he spent with us during this interview. If you'd like to learn more about our production processes, you can either follow our blog posts or come to Casa Sauza and see it all for yourself! We are waiting for you!