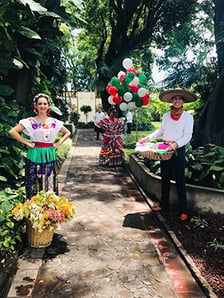 Are you organizing your Mexican Independence party and need ideas? There are several things that you can do so it becomes a night that your family and friends will always remember. Here are our suggestions!
Ideas For your September the 16th Party
Costumes or traditional outfits
Ask your guests to dress up:
With a traditional Mexican outfit
With the colors of the Mexican flag (green, red and white)
With costumes of Mexican things, such as tacos, agave, tequila shot, chupacabras... This last option can be lots of fun, since it's very different from the traditional Mexican outfit, so it's surprising and fun, plus, it allows your guests to be as creative as they want to be.
Dancing!
Good music and a dance floor are a must. To give a certain "Mexican touch" play some songs from famous Mexican singers or bands every now and then, the kind that would make everybody dance, such as:
Cómo te voy a olvidar (Ángeles azules)
Sergio el bailador (Bronco)
El noa noa (Juan Gabriel)
El Santo, el Cavernario (Sonora Santanera)
Payaso del rodeo (Caballo dorado)
Mexican Kermés
Us Mexicans have this kind of celebration where there are many stands at where food, drinks and games are offered. Kind of like a fair. If you want to give your party this very Mexican touch, this is a great and fun way to go. You'll need to:
Have some "fake money" ready (you can make your own bills or coins) so your guests can play with it on the stands. Give them each a certain amount and they will then use it for the Kermés dynamic: Earning money when winning a game, spending it on food and drinks.
Place some stands with food, drinks and games*
You'll guests will go from stand to stand, depending on what they want to play, eat or drink. It's a lot of fun!
*We'll give you some ideas of games that can be played at your stands in this same article. Keep reading!
The traditional Grito
Grito means "scream" and it's what we commemorate that night, at 12:00 o'clock (from the 15th to the 16th). We celebrate that Miguel Hidalgo called out (screaming) to Mexicans so they'd fight for their independence, so we repeat his words (more-less his words, since there are many versions of them) on this night. They usually include:
¡Viva México! (long live Mexico)
¡Vivan los héroes patrios! (Long live National heroes, such as Hidalgo, Morelos, Allende, Josefa Ortíz de Dominguez...)
Viva la independencia nacional (Long live National Independence)
Vivan nuestras instituciones (Long live our institutions)
Among others...
Mexican Food
Food is, without a doubt, a major asset of this celebration. Why? Because our Mexican cuisine offers such a variety of dishes that there's a lot to choose from, plus, everything is very (but very!) tasty. This party is an opportunity to also celebrate our culinary heritage, preparing delicious dishes that everyone can enjoy:
Tacos, Simple yet always delicious and wanted
Enchiladas, sopes and flautas (Dishes made with a base of corn dough, dipped in oil, and topped or filled with meat, beans, cheese...)
Sinaloa-style seafood
More elaborated dishes, such as chiles en nogada or our traditional mole.
Stews with meat (birria, pozole, menudo...)
Tamales
Pig's skin or trotters tostadas
Fried quesadillas stuffed with huitlacoche or pumpkin flower
Panuchos, cochinita pibil, salbutes...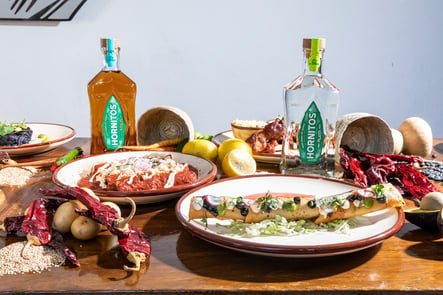 It's clear that we don't lack variety, what we need is a bigger room in our bellies!
Mariachi, Jaripeo, and traditional dances
This is an option for big parties, since
it can be expensive to hire the professionals needed
you need a special venue at where to host these activities, somewhere wide and open, ideally in a garden
If you have the budget and the venue for it, this would be a very first-class Mexican option to entertain your guests.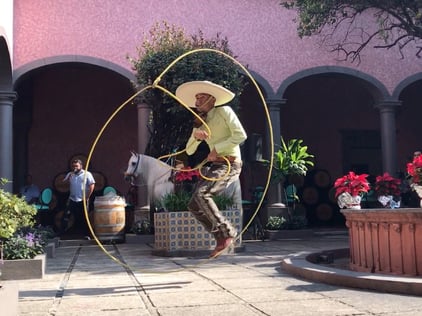 Flag (bandera) Hoisting, and drinking a bandera as well!
This is also more typical of large parties, since you must find a mast and a flag to hoist. Now, if you do have them, and you plan to do hoist it with due respect, it's perfect to do it at the same time that you have the grito (one after the other).
After hoisting the flag, you can honor the flag itself by drinking a tequila-based drink, called Bandera, which means flag. It's called bandera because each shot has one of the three colors of our flag:
Green- lemon juice
White- tequila
Red- sangrita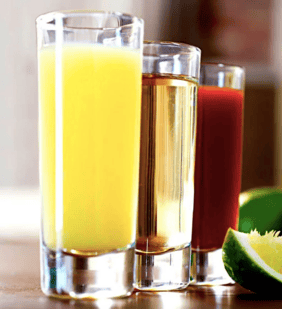 Mexican Games*
Some very Mexican games that you can organize to have fun with your guests are:
Pin the tail on the donkey
Mexican Lottery
Marbles, but played ike this:

You throw them so they fit into a hole.
Each hole has a number and after throwing all your marbles, you add the numbers up.
You have prices, each has a number on it.
The number that you get by throwing the marbles, is the price that you'll get as well.

Piñatas (blindfolded is more fun, fill them with Traditional Mexican candies)
Balero contest
Be creative with prizes!
A kiss from grandma (or from a good looking lady/man from the party, having previously asked for her/his consent, of course!)
A shot of tequila
A rebozo for women (Mexican shawl)
Pots with cacti
An USB with Mexican music
A coupon for a future service (you'll cut their hair, if they'll let you do it!)
Decoration
Try to decorate with a very Mexican style. In our Guide to Organize your Mexican Independence Party, we offer some decoration ideas that you can consider and adapt them to your own taste and budget.
Download this guide for free by clicking on the following image:
Celebrate at Tequila, Jalisco!
One great idea for this day, is to escape to Mexico and celebrate the Mexican Independence at Tequila, Jalisco, birthplace of Mexicanity. Celebrate the traditional grito in this magical town. We are already organizing our traditional Mexican Night at Sauza. We invite you to experience this unforgettable event with us, in the company of your friends and family.
Click on the following image to make your reservations, we have limited quota!