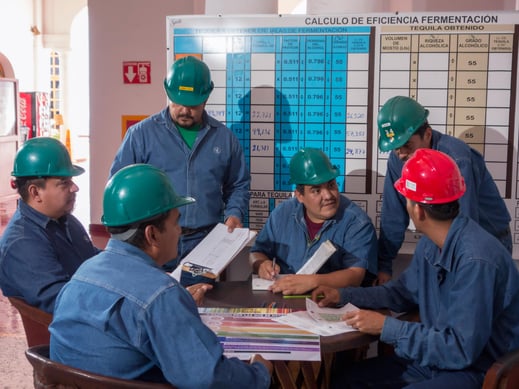 How are you, dear friends? My name is David Juárez López and I want to share with you a little bit about my journey at Tequila Sauza, my second home. Why my second home? Because that's how I see it, as my second family. We all here see each other as family, thanks to the friendly environment that we experience everyday.
Personal Story
Well, I started working from a very young age, so young that at 16, I started working outside this city. It was in a company called Agydsa. I worked In this company for 9 years.
Afterwards, I looked for new opportunities and I was offered many, but my greatest hope was to work back in my hometown, Tequila. Especially, in a tequila producer, in one of the best ones, which have always been Casa Sauza and José Cuervo.
In the year 2001, to be more precise, on May 1st of that year, I tried my luck at Casa Sauza. I thought that since I had only studied up to 7th grade, they wouldn't even talk to me, let alone hire me, because the requirement was to have finished high school at least.
To my surprise, they called me for an interview and thank God! they hired me. I remember well that the union leader told me: "We are going to hire you for a period of 3 months" I was very happy to hear these news because at last, I had been granted one more dream.
This November 1st, 2019, I've celebrated more than 18 uninterrupted years working at Sauza. But what's special about working here for more than 18 years? How did this whole process happen?
My journey at Sauza begins
After the 3 months of the initial contract passed, surprise! They gave me a 6 month contract. When it came to an end, oh my God! I was granted a definite term contract. And so the days went by, and for me, every day is a day full of opportunities. At the time, I set myself the goal of belonging to the union committee. After the necessary time to enter it passed, I got this position thanks to the trust that the employees had in me. In this union committee, I was worked for 11 (non-stop) years, in different positions.
One of the things that I can tell you is that we must give something back to the company as a way of thanking all the support that they give to us. I think that's how things have worked for me.
Casa Sauza has given me many opportunities and I believe that the least I can do is to give something back to Casa Sauza, which in my case, is my talent (as to thank them for so many achievements).
Some of my achievements at Sauza
Sauza helped me finish Middle and High School, and additionally, a technical career at this town's technical school.
But I am a person who can't stay doing nothing, so I also have been a part of the multidisciplinary brigade for 5 years and, this year, I started a basic first aid course.
I've had participated in different trainings, which have helped me both for my personal as well as professional development.
Some of these trainings I've taken are:
FM global
Internal Instructor
First Aid
Containers under pressure
Coaching
Search and rescue
I could share many others that are missing here, but this list works well as an example.Now, it's easy to just make a list yet there's a saying that goes something like this: Words are loud but actions speak louder, so I here share some of these acknowledgments wit you:
Acknowledgements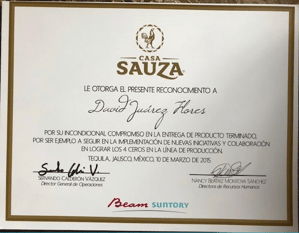 And this one is to me, is the best of all, because this given to me when I reached 15 years of uninterrupted work, and I'm still as excited to work in this blessed and great company as I've always been.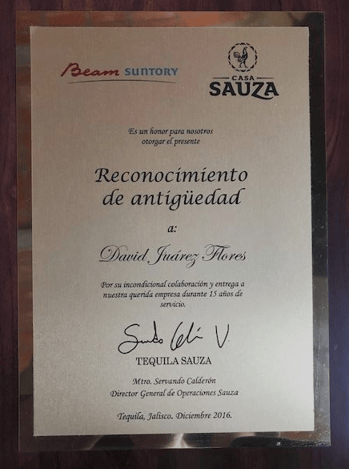 I could share many more awards with you, but I'd rather you contacted me at my Casa Sauza blog posts.
First of all, I want to thank God, and then, thank those who trusted me at Casa Sauza: Servando Calderon, Nancy Montoya and many others.
We must be grateful in this life
I never get tired of thinking Sauza for all the personal support they've given me.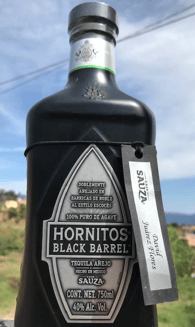 I wish you all the best today and forever. And... Cheers! with one of our best tequilas, Hornitos Black Barrel.
I also invite you to come to Casa Sauza and get to know this place that has given me so much by yourself. Take one of our guided tours and:
Learn all about the tequila production process, from the agave planting to the bottling of tequila
Talk to us, we are here for you!
Walk around Quinta Sauza's gardens and eat our restaurant, La Cueva de Don Cenobio