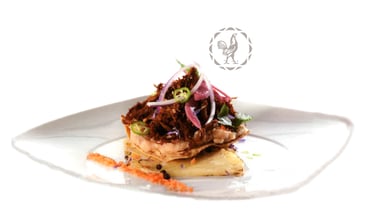 This tequila-based recipe, "Antojito de la esquina" literally means "little craving from the corner", making reference to the street food you can find in many street corners of Mexico.
It will only take 70 minutes of your time to prepare this delicious dish (consider 24 hours of meat marination before preparing the dish, though). It serves 2 people. By mixing pork, fruits, herbs and 100 Años Reposado® Tequila from Casa Sauza, you will get and unparalleled and extraordinary dish. It is a modern deconstruction of the Mexican "Tostada al Pastor" with pickled sauce. (See also "Carne al pastor")
Ingredients: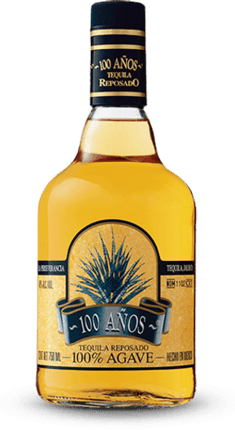 2 slices -of 250 g each- of pork loin
60 ml peanut oil
100 ml of 100 Años Reposado® Tequila
Marinade ingredients:
500 ml orange juice
150 g Annato
75 ml mango nectar
100 ml white vinegar
4 garlic cloves
dry oregano (to taste)
100 g chopped fresh coriander
Toasted pineapples:
500 g sliced pineapple
2 Tbsp olive oil
Chopped coriander to taste
50 g of "chile piquín"
Pickled sauce:
100 ml corn oil
100 g carrot strips
2 pieces of fresh jalapeño peppers, deveined and without seeds
100 g white onion
125 ml apple vinegar
Salt and pepper to taste
1 bay leaf*
2 parsley branches*
1 thyme branch*
Garnish:
100 g refried white beans
200 g chopped pecan lettuce
Procedure
Clean the pork loin by removing all the fat excess. Set aside.
Marinade:
Blend all the marinade ingredients until you have a light pasta, cover the pork loin with it and marinate for 24 h.
Preparation (after 24 hours of marination)
Remove the marinade excess and save this leftover liquid for later. In frying a pan, cook the pork with the peanut oil. The add the rest of the marinade that you saved and cook over low heat. Set aside.

Toasted pineapples
Peel and cut the pineapple into thick round slices (5-8 cm with), season with salt, pepper, chopped coriander and chili powder. Cook in a pan until lightly toasted.

Pickle
Heat the oil and fry the carrot while constantly stirring for 10 min. Add the jalapeno peppers and the onion and let cook for 15 min. Add the vinegar, pepper and herbs*, let boil for 5 min and season.
-Heat the beans and set aside.

Plating
Place the toasted pineapple first and spread a spoonful of beans on it. On top of that, serve the pork loin and decorate with the lettuce. Pour pickled sauce on top.
On a separate bowl, serve the pickled jalapeno pepper.
Bon appettit!
If you want to prepare more tequila-based dishes, take a look at the following recipes:
Come and visit Casa Sauza, our chef will prepare the best tequila-based dishes you'll ever have. Have a tequila-based dish right at Tequila, Jalisco!