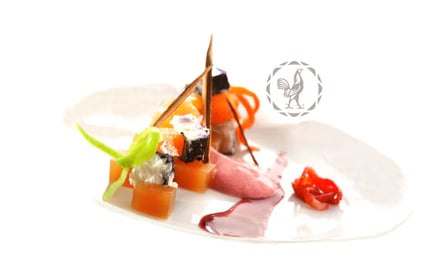 This is yet another tequila-based recipe that we share with you, only that this time, we are using "Abuelo Cenobio's Recipe" (Grandpa Cenobio- Tequila Sauza's founder) for a delicious dessert. This dish is a mixture of Mexican fruits with a touch of Sauza Gold Tequila, the perfect dessert to follow any of the dishes of our cooking book, "La Magia del Maridaje de Sauza" (Sauza's Piring Magic). You won't resist its unparalleled taste.
Preparation time: 60 minutes (Plus marination time of 2 hours)
Serves 5 people
"Ate de membrillo"* with goat cheese and crispy tortilla
Ingredients

1 kg quince
To prepare marinade:
250 ml Sauza Gold® Tequila
300 g sugar
1 cinnamon stick
1 piece lime peel, grated
1 pinch of ground clove
750 ml of Tempranillo wine

For plating:
5 pieces of flour tortillas, fried
100 g goat cheese
1 scoop strawberry ice-cream
1 tangerine's zest
1 strawberry, sliced
Preparation:
Boil the fresh quinces for 10 min. Pass them through ice water to halt the cooking process and lower the quinces' temperature. Peel them and remove the seeds. Cut them into 3 cm cubes. Preheat oven at 100 ° C / 212 ° F.
In a deep bowl, mix the marinade ingredients and add the quince cubes, let it all rest for 2 h. Arrange the whole mixture of the quinces and marinade in cooking bowl and leave in the oven until tender or up to the desired point. Set aside. Dice.

Presentation/Plating
Arrange the tortilla in any shape you want as a base for the dessert. Then place the diced quince cheese and the goat cheese. Top it all with the strawberry ice cream, tangerine zest, and strawberry slices.
We recommend this dessert as the perfect end to a delicious Mexican meal. Find some of our recipes here:
Come and visit Casa Sauza, our chef will prepare the best tequila-based meals you'll ever have. Have a Tequila-based dish, at Tequila, Jalisco!