Beef tenderloin is rich in proteins and when mixed with spices and herbs, not only is good for your health but it also becomes a fascinating option for a nutritious diet. Add a touch of Three Generations® Reposado Tequila and it becomes excellent option for a meal or a special dinner.
This recipe with tequila serves 4 people and its prepared in 35 minutes.
Bon apetit!

Ingredients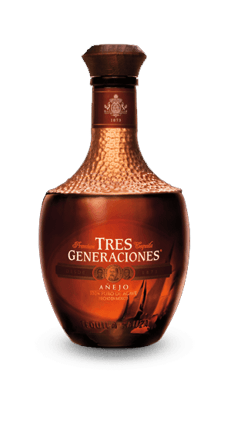 100 ml Tres Generaciones® Reposado Tequila
800 g Beef tenderloin
2 slices of smoked bacon
1 Tsp olive oil
Salt and pepper to taste

Mexican pesto:
1/4 red bell pepper (sliced)
1/4 Green bell pepper (sliced)
1/4 yellow bell pepper (sliced)
1/4 zucchini (diced)
1/4 red onion (chopped)
1 Tsp garlic (chopped)
2 Tsp dried tomatoes (cut into strips)
50 g butter
Plating:
150 g cooked black beans (just the beans, not the broth)
3 Tsp olive oil
Preparation
Clean the meat by removing the excess of fat and slice it into 200 g medallions. Wrap around each medallion with bacon and use wooden toothpicks to hold them. Season with salt and pepper to taste and sear it in a pan with olive oil. Set aside.

Mexican pesto
In a food processor or blender combine the basil, coriander, epazote, garlic (peeled), cotija cheese and olive oil. Add the walnuts and pine nuts at the end and then grind gently until they have a pesto consistency. Set aside.

Peperonata
Sauté the bell peppers and zucchini in a saucepan with olive oil. Add the purple onion and the garlic. Mix and season with salt and pepper to taste. Finally add the dried tomatoes and the Three Generations® Reposado tequila (being careful not to flame). Finally, emulsify with the butter.

Plating
Serve on a plate the black beans, the loin on top them and on each side, the peperonata. Top it all with the Mexican pesto and enjoy!
Try more recipes, either made with tequila or that pair well with tequila:
Apple Chutney Salmon with Tequila
Come and visit Casa Sauza, our chef will prepare the best tequila-based dishes you'll ever have. Have a tequila-based dish right at Tequila, Jalisco!