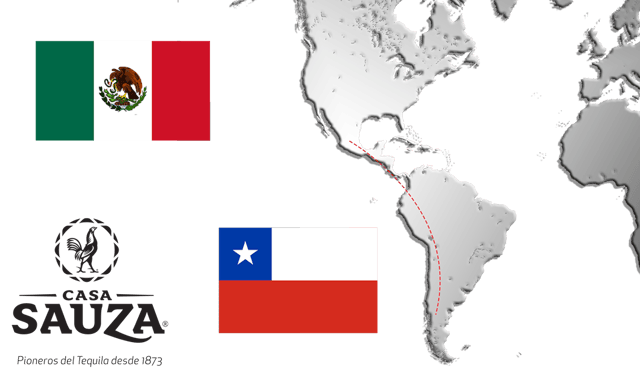 In the past few days, I had a most peculiar experience in terms of the education of our brand. Our Latin American CEO asked us to give a work seminar for our salespeople in Chile.
The adventure started right after our 12-hour flight when we were received by a major earthquake that shook all of Santiago. As soon as I arrived, I noticed that Santiago is similar to some of Mexico's cities. The people and traditions are very alike. They have many habits that made me think that we are closer to them than to other Latin American countries.


The next day, I was introduced to a different business model since Bacardi will be representing our brand in Chile's national markets with the support of the biggest producer and distributor of Pisco in Chile, Capel.
And there I was, more than 6,000 km away from my country, in front of people who represent a business competitor -the largest distributor of Chile's Pisco- being commercialized in an unknown yet very similar culture.

Nicolás Gallego from Bacardi, a former bartender and now mixologist and head of off-trade, was our host. He was our tour guide and showed us his culture, drinks, and, most of all, everything about his traditions.
During the evening, we went to several bars and restaurants where people from each of Santiago's sectors were trained. Part of my job was to share with them the qualities of Tequila Sauza, especially its mixing versatility, since there is, nowadays, in Chile, a growing tendency to create Pisco and tequila drinks. Drinking tequila in Chile is increasingly becoming a trend. Here is a taste of my experience:
MAVERIK cocktail with tequila

Although the Chilean market represents a relatively small percentage, we must acknowledge the continuous growth of cocktails made with tequila in this country. It was here that, with a little bit of expertise and perhaps a good amount of luck, Nicolás and I were able to create a cocktail that we called MAVERIK. Playing and talking, we finally decided to use a margarita's base ingredients with a twist of a different flavor:

· 1 oz of white Tequila Sauza
· 1 oz of elderberry liqueur
· 2 oz of green lemon juice
· 0.5 oz of lime syrup
· Carmenere red wine salt
· Ice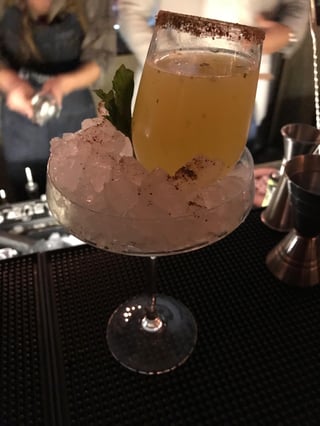 I was later invited to Siete Negronis, a trendy restaurant bar. I was surprised to find out that an event in which I was acknowledged as the guest of honor was being held. They called it The Bartending Host night. The idea was to bring a guest along and "sell" him our drink as the specialty.
I was astonished that the drink we had just created started to sell big time. Still, the most enriching and satisfying feeling came from instantly creating several other drinks with local flavors that left our first drink behind.
Mexican Guey cocktail with tequila

That night's best-seller was created by mixologist Victor Ignacio Gomez and me, the "Mexican guey", since guey is a popular Mexican word that refers to a person.
· 5 uchuvas (golden cherry)
· 2 blackberries
· ½ spoon of sugar
· 5 peppermint leaves
· 1.5 oz of Tequila Sauza Gold
· 0.5 oz of Lemon juice
· 0.5 oz of Mango-flavored Pisco
· 0.5 oz of albumin (cocktail foam)
· Rim of Chile Merken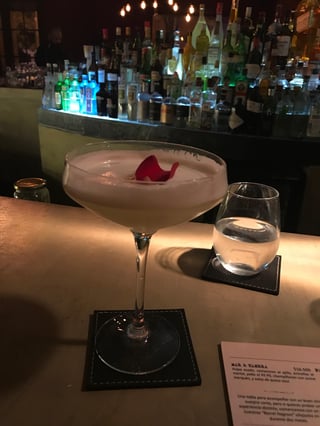 While the creation of this drink was fortuitous, the experience and the rush of the night made me remember what a bartender feels. Your mind travels through each of the bar's guests and starts becoming familiar with them, starts to understand them but, above all, becomes fond of them.
I must accept it wasn't all a bed of roses since the "backstage" was chaos. The lack of habit and not having been behind a bar at regular service time for more than ten years made me feel like a newbie on his first day at work.
Further, into the night, a new bewilderment began for me since people wanted more things from "the Mexican guey". The Chileans wanted more of our culture and flavors, and I, all crazy with the regular rush of a bar, started thinking and creating new experiences for everyone...
At the end of the night, a good talk with the waiters and chefs, a few cigarettes shared by several of them, and two very sui generis hot dogs were the perfect wrap for a spectacular trip, one that turned out to be more illustrative than I first believed it would have been...
This trip left something in me that I had not felt in other countries I had visited before. In Chile, I met great people who helped me appreciate what I had learned years ago, but most of all, the experience helped me value my passion for our Mexican habits and traditions.
Thanks, Chile! For letting me share our Mexican culture, "a synonym of joy," with you.
Nicolas, Adilson, Jorge, Lorenzo and other new friends ...
Thanks, and see you soon!!
For more tequila-based cocktail recipes, click here.
Come and visit Casa Sauza; our bartender will prepare the best tequila-based drinks you'll ever have. Have a tequila-based drink right at Tequila, Jalisco!