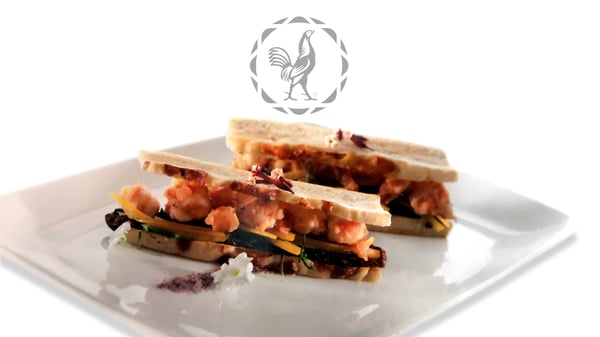 This tinga shrimp (tinga is a Mexican dish, usually made with chicken) is served on spicy ciabatta bread and serves 4 people
We recommend you pair this dish with a Sauza Silver ® Tequila.
Preparation time: 45 minutes
Ingredients
1 lt fish broth
450 g shrimp
2 red onions, sliced
2 Tsp olive oil
2 bay leaves
200 ml tomato puree
50 g dry Chile de árbol or Cayenne pepper, chopped
15 g garlic slices
Fresh rosemary bunch, chopped
Parsley bunch, chopped
Plating:
2 pieces Ciabatta bread
4 slices gouda cheese
100 g bean puree
100g milk cream
1 avocado, sliced
1 tomato, sliced
Chopped lettuce to taste
Preparation
In a well-seasoned fish stock, cook the shrimp, remove and chop. Set aside.
Sauté the onion with the olive oil, add the garlic and dried chili and finally the bay leaves. As soon as the bay leaves turn into a golden color, add the tomato puree.
Add the shrimp, rosemary and parsley.
Cut the ciabatta bread in half and remove the soft inside part of it, keeping the hard crust only. Spread the beans on one half of the bread and the cream plus a slice of cheese, on the other. Finally, add the shrimp (best if still warm) and top with the avocado, tomato and lettuce.
Plating
Serve the panini you've just made on a plate. Cut it in fine rectangles. Add some Mexican salsa if you wish.
Bon appetit!
Looking for more dishes to pair with tequila or make with tequila? Here are some ideas:
Mexican Salpicón to pair with tequila
Tatemadillo Chicken with Tequila.
Come to Casa Sauza and let our bar tender prepare the most delicious tequila-based drinks for you. Have your tequila at Tequila!