Delirios de Sabina (Sabina's Delusions) is a pepper and black alioli fillet medallion, served with a tequila and coriander pasta. This delicious dish is high in proteins, has fatty acids, amino acids, vitamins and minerals, so it is a very nutritious meal. Its pepper sauce and 100 Años® Blanco Tequila marination makes it extraordinarily delicious.
This recipe serves 2 people
Preparation time: 50 minutes. (Medallions previously marinated)

Ingredients
Sauce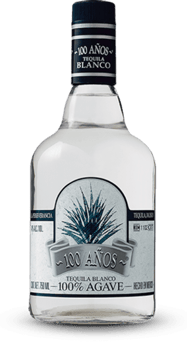 2 g Chiles Mulatos (dry poblano pepper)
1 Chile Pasilla
3 Dried black chili (or any similar dry chili)
30 g Chili seeds
350 g Red Tomato
1 Burnt tortilla
1/2 Garlic
2 Cloves
3 red peppercorn seeds
A pinch of cumin
500 ml Chicken broth
Salt (to taste)
Marinade
100 ml 100 Años® Blanco Tequila
800 g Fillet medallions
Black peppercorn seeds to taste

Pasta
250 g Butter
150 g cooked pasta (spaghetti)
70 g Chopped coriander
50 ml 100 Años® Blanco Tequila
50 g peeled and diced garlic
50 g Canned Huitlacoche
20 ml Lemon juice
450 ml Olive oil
Salt (to taste)
Fried leek cut into strips (to taste)
Preparation
Sauce
Roast all the dried chilies (direct fire heated). Cut in half and set the seeds aside. Soak the chilies in hot water for one hour and soak the seeds in another container with water. Roast the red tomato, blend with the burnt tortilla, cloves, peppers, garlic and cumin. Finally add the peppers and seeds. The mixture should be thick (if it is too thick, add a little chicken broth). Season.

Medallions
Marinate the medallions with pepper and 100 Años® Blanco Tequila. Before cooking to the desired degree of doneness, add salt to taste.

Coriander and Tequila Pasta
Melt the butter in a hot pan, add the pasta (already cooked) and finally the coriander, stir until it all mixes well. Remove from heat and add a touch of 100 Años® Blanco Tequila. Put back in the heat and reduce.

Alioli
Blend at medium speed the garlic, huitlacoche, 100 Años® Blanco Tequila and lemon juice. When achieving a pasty consistency, slowly add the oil and blend at very low speed. Season with salt.

Plating
Place the pasta in the center of a plate. Place the fillet medallion on top of it and bathe it with the alioli. Decorate with fried leek strips.

Hungry for more tequila-based recipes? Here are some other options:
Mexican Recipe with Tequila: Modern "Manchamanteles"
Tequila-based recipe: "Antojito de la esquina"
Tequila-Based recipe: Abuelo Cenobio's Dessert
Mexican Recipes Made with Cabreria Meat and Gold Tequila
Come to Casa Sauza and let our bar tender prepare the most delicious tequila-based drinks for you. Have your tequila at Tequila!