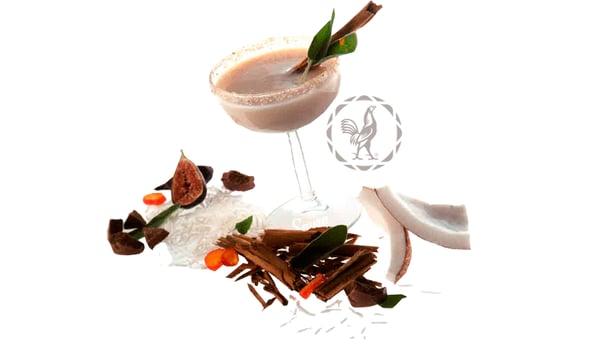 A Quinta Sauza's icon, this drink, with its toasted woody-notes, is inspired in palm trees and tropical vegetation. If you like margaritas, get ready for a new version that you will become a fan of!
Serves 1 person
Preparation time: few minutes
Ingredients

1.5 oz Sauza Gold Tequila
0.5 oz Dark cocoa liqueur
2.5 oz Coconut concentrate
1 oz Agave syrup
1.5 oz Evaporated milk
5-6 ice cubes
Garnish
Coconut powder*
20 g Muscovado sugar
1/2 Clove
50 g Dried coconut flakes
5 g Ground cinnamon
1 Cinnamon stick
Preparation
Blend all the ingredients together for 20 seconds
*Coconut powder: grind the sugar with the clove and the coconut flakes. Add the cinnamon powder at the end.
Presentation
Frost the glass or cup with the coconut powder and pour the mixture into a trojan horse glass or margarita glass. Decorate with a slice of cinnamon.
Want another cocktail made with tequila recipe? find more here:
Bloody María. Cocktail made with Tequila
Cocktail Made With Tequila: Campanita Cocktail
5 Best Tequila-Based Cocktails to Prepare with Tequila Sauza
Cocktails Made with Sauza's Tequila Reposado
Come to Casa Sauza and let our bar tender prepare the most delicious tequila-based drinks for you. Have your tequila at Tequila!