Tequila is a 100% Mexican distilled drink that is known worldwide. The most known and attractive way to drink this delicious aztec drink is by means of small "shots" better known as "caballitos", which usually go with some lemon juice and salt.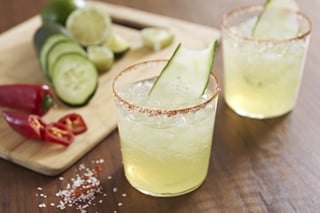 Still, there are different ways to mix this drink that tastes and smells like Mexico. It can be mixed to make fruity cocktails, sweet beverages, soft drinks, or even combinations with other liqueurs.
We will share here with you five simple recipes to make tequila-based cocktails so you enjoy more varieties of this versatile drink:
1. Yucatán Cocktail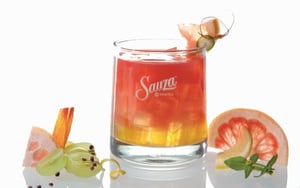 A premium version of this delicious cocktail that mixes different high-quality liqueurs so that fans of this Mexican drink do not settle for less.
Ingredients:
2 oz Tres Generaciones Añejo Tequila
0.5 oz. of light cocoa liquor
0.5 oz. of Xtabentún liquor
15g of quince ate (Ate is a Mexican dessert made out of fruits)
Coconut milk Ice cubes
Preparation:
Blend all the ingredients for 7 seconds. Try not to break the ice so much it disappears.
Optional:
Serve with sage petals and a cinnamon branch
2. Cenobio Verde (Green Cenobio*)
*Cenobio was the founder of Tequila Sauza. This cocktail is not only made up of representative Mexican ingredients, but it also has green herbs that give it a healthy touch.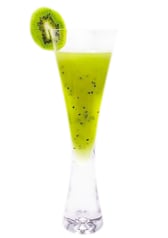 Ingredients:
1.5 oz Tres Generaciones Reposado Tequila
Kiwifruit, peeled and without the heart
Mint leaves
Apple liqueur to taste
Strawberry liqueur
2 oz. lime juice
1 oz of agave honey
Ice cubes
A squirt of lemon juice.
Preparation:
Place the kiwi with the mint leaves in the mixing glass. Grind with the mortar until all the juices are released. Add the rest of the ingredients to the mixture with plenty of ice. Shake until the walls of the shaker freeze.
Optional: Serve with a slice of pink grapefruit, two pieces of fresh rosemary branches, and 1 slice of starfruit

3. Torito de Rancho (Ranch's little Bull)

This a cocktail for those who are looking for healthy options.
Ingredients:
1 oz of Tres Generaciones Añejo Tequila
Cognac
Pink grapefruit juice
Agave honey
1 oz of grape juice
Orange liqueur
Frappe ice
Lime juice
4. Gallitos Tiki Pher (Tiki Pher Roosters)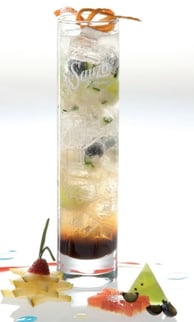 A cocktail made up of different combinations of fruits gives this tequila-based drink a sweet and delicious taste.
Ingredients:
1,5 oz of Tres Generaciones Reposado Tequila
1 slice of cucumber, chopped
1 thin slice of pineapple, chopped
Lychee
Agave syrup
Lemon juice
3 or 4 ice cubes
Grapefruit soda
Preparation:
Put the cucumber, lychee, and pineapple straight into the glass and gently crush them with a bar's spoon, so they release some juice. Mix the remaining ingredients and pour them in with the ice.
Optional:
Serve with sage petals and cinnamon branches
5. La del Estribo (The stirrups)
An innovative cocktail that contains traditional Mexican ingredients.
Ingredients:
1.5 oz of Tres Generaciones Reposado Tequila
Pineapple juice
Lemon juice
Apple juice
1.5 oz of Galliano liqueur
Agave honey
Rosemary branches
1 piece of clove
3 or 4 ice cubes.
Preparation:
Mix all of the ingredients in a shaker with the ice.
Optional:
Serve this drink with rosemary petals and one slice of kiwifruit.
Prepare these delicious and easy-to-make drinks at home, and tell us about your experience mixing cocktails with Tres Generaciones Tequila.
Come to Casa Sauza and let our bartender prepare the most delicious tequila-based drinks. Have your tequila at Tequila!