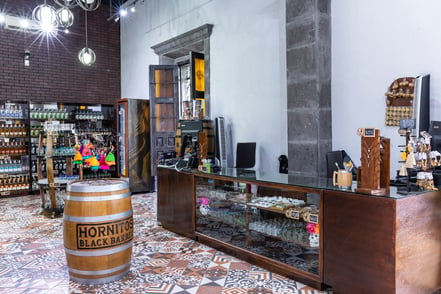 The Souvenirs shop inside Quinta Sauza has a high demand of visitors since all of the tourists that come to this tequila factory end their tour here. Many of these tourists ask for recommendations about the best tequila they can buy or which one should they bring home. In oder to better solve our visitor's doubts, there is an area inside our shop where they can actually taste some of our products a and thus, help them choose which ones they like best.
Our leading product
Hornitos Black Barrel Tequila is the most wanted one and the one that has lately had the most demand. This tequila, unlike the others, has a whiskey profile, since it is aged in Scottish-style barrels. This tequila is our best-seller and it is already recognized and sought by our costumers. Many come to the shop asking directly for this product and we can say that around a 99% of those who taste it, buy it.

Exclusive products from our shop
We have 4 products in our shop that can only be found there by our Mexican costumers, since those 4 tequilas are produced for export only and not distributed in our country. These are:
Sauza silver
Sauza gold
Sauza blue
Conmemorativo (Commemorative)
All of our Mexican visitors are given a tasting of these products as well as relevant information about the sensory profiles of each of these tequilas.
The 5 most wanted souvenirs from Casa Sauza
We don't only sell tequila in our shop, but you can also find the handmade accessories that foreigner visitors want the most, among which there are 5 products that they always look for:
"Blown glass" Tequila shot glasses
Agave fiber wallets
Keychains
Tempered glass Tequila shot glasses
Wooden jars and small sized barrels
When visiting our souvenirs shop, where you can buy all of Tequila Sauza's products at a special price, you will also be given the opportunity to buy our 4 "export only" products, which can't be found anywhere else in Mexico. Whatever you buy in our shop, it will surely be the best souvenir that you can get from your trip to Tequila, Mexico.