Are you planning your wedding and still don't know what style to choose? Well, if it's a destination wedding in Mexico, then the Mexican Wedding concept will always be a great trend to follow.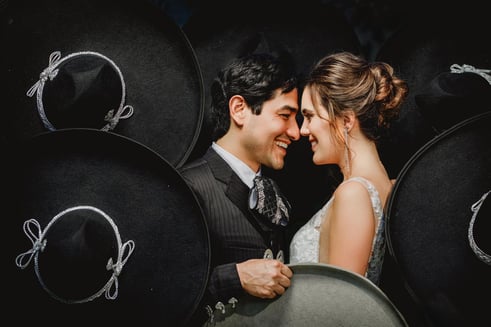 Yet, there are different options that you have when wanting to do something very Mexican. The idea is the, if you go for this concept, you do it all the way but always looking after every detail without doing too much of something (otherwise, it might end up looking tacky). Here are some great options to follow with this concept:
Ideas for your Mexican Wedding
Invitations may look great with little Mexican details such as papel picado decoration or, if the wedding is in Tequila, with some agave plant decoration. It can even be printed on agave paper, textures always add a great touch!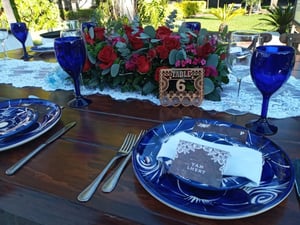 You can use lots of colors or pick just a few. For example, a very elegant option is without a doubt, a blue and white talavera dishwear. It offers a simple yet elegant palette of colors to which you can add a touch of a different color (such as red) so it looks even livelier.
Papel picado. This Mexican decoration made with cut-out colorful paper is a must! If you chose to include many bright colors, it'll bring a beautiful rainbow of colors to your day. On the other hand, if you chose to have just a few colors, white papel picado will look great and will also bring a lot of light to the whole decoration, wether your wedding is during the day or night.
Marichi! You can have a welcoming cocktail while listening to a mariachi band playing live... can't get any more Mexican than that! Such a beautiful ambience, surrounded by the sound of live Mexican music, can only bring lots of joy to you event and will definitely be a great start for your wedding, doesn't it sound great?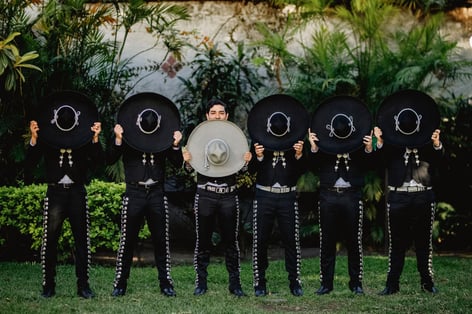 You can add natural wooden details to your decoration, for example, the numbers set at each table, or the menu holders... maybe a souvenir for your guests? You can also use it on chairs and tables... there's so much you can do with this option!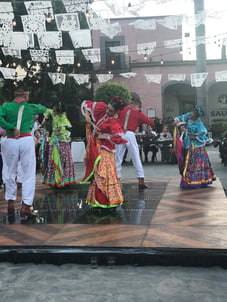 How about surprising your guests during dinner with a Mexican Folkloric Ballet? Those beautiful dresses full of color and movement, what a beautiful way to keep the party going on!
Do you want any details for your guests? How about beautiful hand fans? In addition to being useful, they'll look very cute and your guests will appreciate them. Many providers of this kinds of souvenirs also handle very Mexican sandals; they are also an excellent gift for your guests (we all know that at some point, we'll leave glamour behind and just enjoy the party). If these go hand in hand with the concept of the event, even better!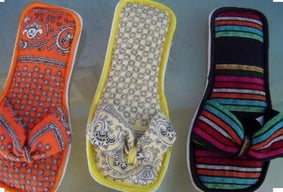 The menu. So many delicious Mexican dishes that can be offered in combination of fusion or Mexican haute cuisine! If, on the other hand, you want something more typical, it may be a special dish from the region. In Tequila for example, we promote the fillet dipped in a sauce of 10 chilies with agave honey, didn't your mouth just watered?
You can also set a table of snacks with details to match the Mexican concept, such as:

Mexican lottery decoration
Traditional Mexican grocery bags
Clay pots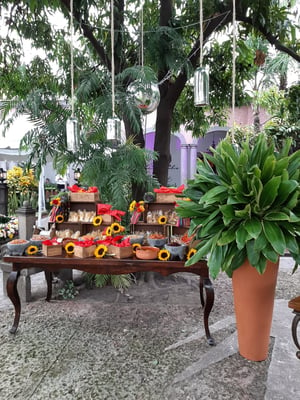 If there's a candy bar, go crazy with Mexican candies! There are just so many options to choose from:

Borrachitos
Coconut-sweets
Wafers
Tamarindos (sweet and salty)
Hibiscus flower candies
Pecan nut bars
Peanuts or sunflower seeds
Sweet potato (cooked with sugar)
Sweets made with dairy
Guava candy
Chocolate
And so many others that will blow your mind!

The cake can be decorated with very colorful flowers. If you like fondant, they can make the confetti with the fondant and cover the cake with it, it looks beautiful!
For your table, here are some ideas:

Base plates

Genuine talavera
Imitation talavera
Clay / pottery
Oaxaca's black clay

Tablecloths

Frayed
Lace tablerunners
Mexican rebozos

Blown-glass glassware
There's just so much you can do with a Mexican wedding!

Mexican Wedding at Sauza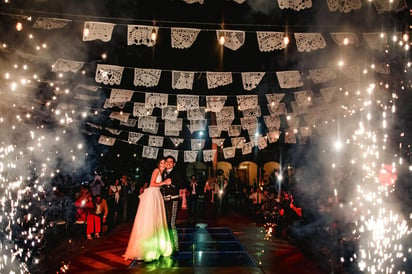 I recently had the opportunity to plan a wedding for a beautiful couple who came from San Francisco and had guests from different countries. Organizing a beautiful Mexican wedding at a 1836 Quinta, La Quinta Sauza, was without a doubt, an unforgettable site for all of them. I will always be grateful towards Rebecca and Juan for allowing us to be their hosts and for letting me be part of their team to make their dream day become a beautiful reality.
We can also help you organize the event you always dreamed of!
I will soon publish more wedding tips on my blog, stay tuned!