We had the chance to talk to Mauricio de Tuya, director of the marketing area of Beam Suntory Mexico. In this interview, Mauricio shared the strategy that is being carried out for Casa Sauza. He also mentioned a quick bio of his professional background and how he is related to Sauza. This were his words:
Beam Suntory's goal for Sauza
"My name is Mauricio de Tuya Graciano, I work at Beam Suntory Mexico, I work for the most important wine and spirits company in Mexico.
My main objective with Sauza is getting our consumers to know our brands, that more consumers get to taste and enjoy our products and that, by doing so, they end up choosing them in the long-term.
What is most important to us right now, is to lay the groundwork for having product availability in every store and in every consumption center, that is, to strengthen our distribution.
The main challenge is outside: we have very big competitors out there and there is always a point of sale at where we compete day after day with them. Our main challenge is to be right there, at that very point of sale, in order to beat our competition and to convince consumers before they reach the point of sale and, last, with the shopper, to greatly influence shoppers with our displays, and with a timely brand communication, one that can change the consumer's decision at the point of sale.
As Casa Sauza, our number one priority is to work on the distribution of all of our portfolio at a national level, with all of our clients -self-service and wholesalers- and, more importantly, to have them all well displayed, in accordance to what Casa Sauza means for the tequila industry.
Beam Suntory in Mexico
The main strategic pillar that we have is Casa Sauza, and the second one is whiskies. Some of our whiskies are Jim Beam, Maker's Mark, and other projects that we are bringing from the US, from Beam Suntory US to Mexico, and other scotch brands that are already in the market but we have to expand their distribution, such as Teacher's, as Ardmore, Bowmore, Laphroaig, to mention some.
About Mauricio de Tuya
Truth is, I am an industrial engineer. I chose my profession because I wanted to work at the production plant but it was by chance that I ended up in marketing. Yet, I still have an itch for working on industrial engineering at some point.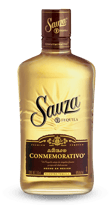 I've been working in this industry for 22 years and the first brand I happened to work with as a student, was Conmemorativo (one of Sauza's tequilas). We launched a TV publicity campaign 22 years ago with Conmemorativo. The filming was actually done at a famous fountain at La Condesa, Mexico, which is very similar to the one we have back here, but at night. It was a great commercial and it was broadcasted from 1995 to 1997.
Sauza is not a job, marketing is not a job, working for Sauza is a passion to me, something that makes me proud and I always take it to another level.
Changing the perception of the consumer
Our consumer often has the perception that Sauza is a very strong product, that it is not consumed because it has a very high content of alcohol and yet, the biggest surprise that we've had is that when you actually approach the consumer and tell him/her "that's not true, taste it" and they do taste our product, they go "wow"… and at that moment you see in their face the way in which we are transforming a consumer from a Sauza sceptic to a Sauza customer, which is very important and to me, the most beautiful part of the job."
It is with this words that our interview ended. We thank Mauricio de Tuya for sharing his time with us. We are glad that he is a part of Beam Suntory Mexico, working directly with Casa Sauza,with our tequila brand.
If you would like to know more about Beam Suntory Mexico and their strategy for Casa Sauza, we recommend you also watch the interview we had with Pablo de Brito.
You are more than welcome to come to Casa Sauza yourself, we have several guided tours to show you around Tequila and Casa Sauza.