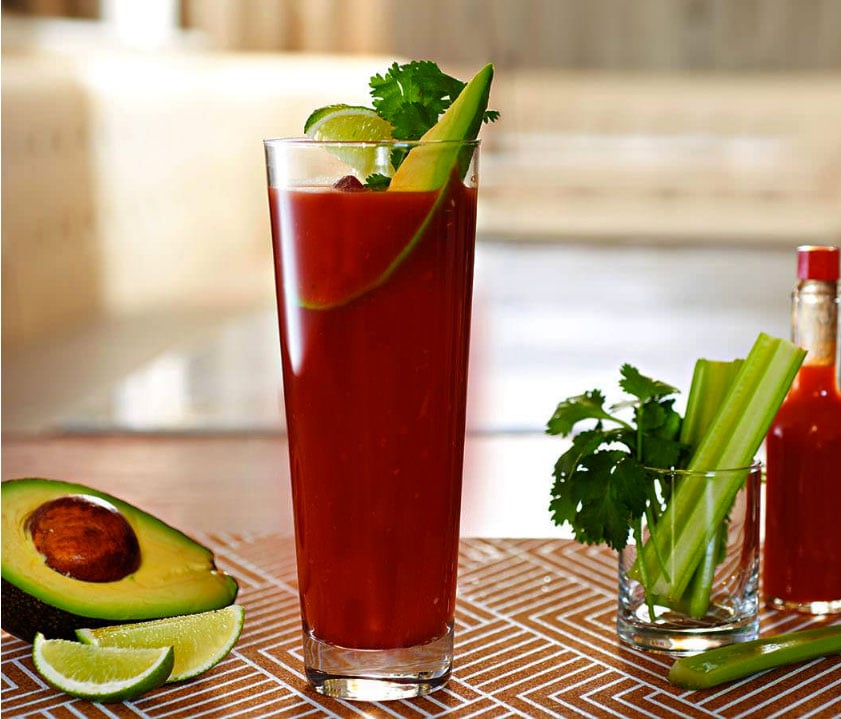 Today, we bring you a delicious and refreshing recipe: the Tequila Sauza Bloody María cocktail. Ready to learn how to make it? It doesn't matter if you're an expert or just starting in the world of mixology; this recipe is perfect for everyone. The Bloody María cocktail is a variation of the famous Bloody Mary cocktail but with a touch of tequila to give it an authentic Mexican flavor. It's an ideal drink to enjoy on any occasion, whether it's a relaxed brunch or a night of partying with friends. Without further ado, let's get started!
Ingredients
Here's the list of ingredients you'll need:

50 ml of Casa's Sasuza Tequila Hornitos© White or Silver.
120 ml of tomato juice.
15 ml of lemon juice.
1 teaspoon of Worcestershire sauce or English sauce.
1 teaspoon of hot sauce (like Tabasco).
1 pinch of salt.
1 pinch of ground black pepper.
Avocado slice.
Ice.
Lemon slice and celery stalk for garnish (optional).
Preparation of the Cocktail
Now, let's get to work:

Step 1: Add ice in a tall glass until it's about half full. The ice will help keep your cocktail cold and refreshing.

Step 2: Add the Tequila Hornitos© Blanco from Casa Sauza to the glass with ice. This tequila will add a smooth flavor.

Step 3: Pour the tomato juice into the glass. Make sure to use good-quality tomato juice for the best results.

Step 4: Squeeze fresh lemon juice into the glass. The lemon juice will add a citrusy and fresh touch to the cocktail.

Step 5: Add Worcestershire sauce or English sauce and hot sauce to taste. These sauces will add that characteristic flavor and a bit of spiciness to the cocktail. If you're not a fan of spice, you can adjust the amount according to your preference.

Step 6: Add a pinch of salt and ground black pepper to the glass. These seasonings will enhance the flavors of the cocktail.

Step 7: Mix all the ingredients well in the glass using a bar spoon or a stirrer. Ensure that all the ingredients are combined evenly.

Step 8: Optionally, you can garnish your cocktail with a lemon slice on the rim of the glass and a celery stalk inside the drink. For a genuinely Mexican touch, add an avocado slice. This will give it a visually appealing look and an additional flavor.

Now, you can enjoy your delicious Tequila Sauza Bloody María cocktail! The combination of savory, spicy, and citrusy flavors will make each sip an incredibly refreshing experience. You can serve it anytime and accompany it with your favorite snacks.

Remember to drink responsibly and always enjoy your cocktails consciously. I hope you've enjoyed this recipe and that you'll give it a try at home. Cheers!