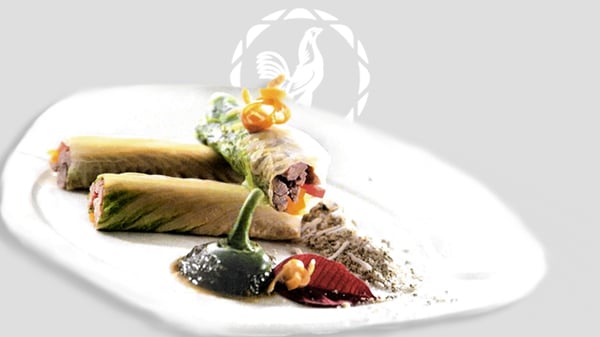 This isn't a regular Mexican taco, it's an Hornitaco, which is a modern version of a traditional taco, a perfect recipe to pair with tequila, Hornitos tequila.
Made with lettuce and a green-peppered arrachera (flank steak), served with a coconut and coriander sauce and garnished with jalapeño marmalade, it is a unique, fresh and most delicious taco, a mixture of Mexican flavors that will sure get you hooked on them!
Preparation time: 60 min. Serves 2 people.
Enjoy!
Ingredients:
400 g marinated arrachera meat
60 ml sesame oil
6 romaine lettuce leaves
100 ml soy sauce
100 g roasted red and yellow bell pepper in stripes
Sambal Sauce:
160 g grated coconut 160 g
2 chile de árbol or cayenne pepper
40 g coriander seeds
1 tsp green pepper
100 g fresh coriander
1 tsp ground ginger
1 tsp ground cumin
Jalapeño marmalade:
200 g jalapeño pepper (remove seeds)
200 g brown sugar
100 ml water
half a lemon- its juice
Quarter of an orange- its zest
Sea salt to taste
Preparation
Pour the sesame oil in a hot pan and cook the flank steak to the desired point, season with salt and cut into thin strips. Set aside.

Sambal sauce:
Grind all the ingredients of the Sambal sauce in a food processor and set aside.
Dice the jalapeño pepper and place it in a saucepan along with the sugar and water. Cook over low heat, stirring until a consistency of marmalade is achieved. At the end, season with the lemon juice and orange zest.
Hydrate the lettuce leaves in warm water and when they become manageable enough, brush soy sauce on them.
On top of this lettuce, place the steak, the roasted bell peppers and the coconut mix. Roll up like sushi.

Plating
Place the tacos on a dish and top with some marmalade. Decorate with some coriander leaves.
Enjoy!
If you want some more delicious contemporary Mexican recipes, take a look at the following links:
Apple Chutney Salmon with Tequila
Come to Casa Sauza and let our bar tender prepare the most delicious tequila-based drinks for you. Have your tequila at Tequila!