Tequila Sunrise is one of the most famous beverages to prepare with tequila. It's named like this because its colors resemble a paradisiacal sunrise. This is an excellent drink at any reunion in hot and humid weather to cool off a little.
It is straightforward to prepare a Tequila Sunrise, and we'll guide you through all the steps so you prepare a delicious and refreshing drink.
Ingredients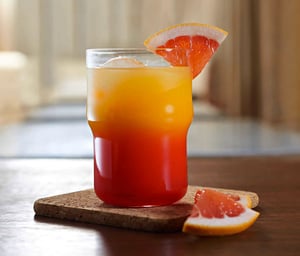 2 parts of Sauza Blanco or Sauza Silver 100% Agave Tequila
1 part of lemon juice
1 part of orange juice
3 parts of cranberry juice
1 part of grenadine
1 Lemon
1 Orange
Ice
Before you start
We recommend a 250 ml highball glass, and this recipe is for a 250 ml glass. We recommend you don't prepare it in a pitcher since it'll lose the characteristic multicolors of this drink when pouring it into a glass.
How to pour the ingredients for a Tequila Sunrise
Step 1.- Put the ice in the glass (1/3 of the glass)
Step 2.- Pour the Blanco Sauza 100% Agave Tequila in
Step 3.- Pour the orange juice in
Step 4.- Pour the grenadine and the cranberry juice in
Tequila Sunrise decoration
Cut a slice of orange, so you get a circled slice
Cut a slice of lemon
Add a decorative umbrella
When to serve this drink
This drink is good to mix and serve in any situation.
Come and visit Casa Sauza; our bartender will prepare the best tequila-based drinks you'll ever have. Drink your Tequila at Tequila, Jalisco!