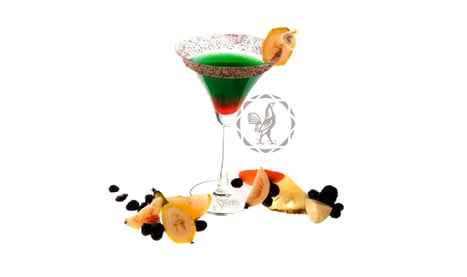 The freshness of this drink, which comes from mixing fruit juices and essences with the unique flavor of Sauza Silver® Tequila, will leave you with a great taste in your mouth. You might also want to pair it with one of our delicious Mexican recipes. (Click here). This is a tequila cocktail that glorifies the fruit flavors of ancient Mexico.
Prepare this drink in 5 minutes
Serves 2 people
Ingredients

15 oz Sauza Silver® Tequila
2 oz pineapple juice
2 oz guava juice
2 oz orange juice
1oz banana liqueur
1 oz Curazao
6-7 ice cubes
50 g Jamaica flower salt*
Decorate:
1 thin slice of banana
1 jasmine flower petal
Preparation:
Pour all the ingredients into a cocktail shaker. Mix vigorously for 25 seconds, strain, and serve.
*Jamaica flower salt: blend dry jamaica flowers and salt to taste.
Presentation:
Roll the thin slice of banana over the Jamaica salt.
Frost the rim of a martini glass with that same salt. Pour the drink from the shaker and top it with jasmine flower petals and the banana slice.
Thirsty for more? Here are some other recipes for our tequila-based cocktails:
Come and visit Casa Sauza; our chef will prepare the best tequila-based dishes you'll ever have. Have a tequila-based dish right at Tequila, Jalisco!