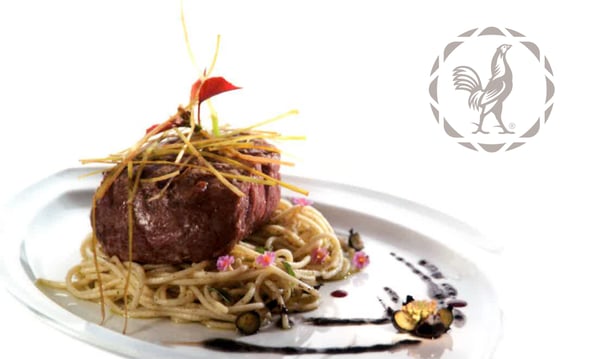 We have put together a series of culinary recipes that use tequila as an ingredient. These traditional Mexican dishes create a unique combination of flavors when experienced with the aroma of tequila. Continue reading to discover how you can prepare a peppered medallion steak and black aioli, with a tequila-cilantro pasta.

Peppered Medallion Steak and Black Aioli with Tequila-Cilantro Pasta
This is a delicious dish, balanced in textures as well as tastes, that can be confidently offered as an entree, or main dish.
Ingredients:
For the marinade:
100 ml of Sauza's 100 year white tequila

800 gram medallion steaks

Black pepper to taste
Pasta:
25 grams of butter

150 grams of cooked spaghetti

70 grams of minced cilantro
Alioli:
50 ml of Sauza's 100 year white tequila

50 grams of peeled and cubed garlic

50 grams of canned

huitlacoche

or corn smut

20 ml of freshly squeezed lemon juice

450 ml of olive oil

Salt to taste
Fried leek in strips to taste
Salsa:
2 grams of Mulato chili peppers

1 piece of pasilla chili peppers

3 pieces of dried black chili peppers

30 grams of chili peppers seeds

350 grams of red tomato

1 piece of burned tortilla

Half of one piece of garlic

2 piece of clove

3 pinches of red pepper

1 piece of cumin

1 piece of garlic

500 ml of chicken stock

Salt to the taste
Tequila 100 Años ® Blanco Casa Sauza

Instructions:
Sauce:
Roast the dried chili peppers (with direct fire). Cut the peppers in half and save the seeds. Rehydrate the chilies and the chili seeds in hot water for one hour, in separate containers. Roast the red tomato and blend it with the burned tortilla, clove, pepper, garlic and cumin. Add the chilies and their seeds at the end. The blend must be dense (in cases that it is too dense, add a little chicken stock). Season.
Beef medallions:
Marinate the steak with pepper and Sauza's 100 year white tequila. Before cooking it, add salt to taste.
Cilantro pasta:
Melt butter in a large pan, and add the cooked pasta; then add the cilantro. Take the pan off the fire and add a bit of Sauza's 100 year white tequila. Place the pan back on the fire and reduce the liquid to achieve a desired texture.
Aioli:
With a blender, use half-speed to blend the garlic, huitlacoche, 100 year white tequila and the fresh lemon juice. Once you achieve a pasty consistency, slowly add the olive oil and blend at a low velocity. Season with salt.
Presentation:
Place the pasta along the edge of the plate, and the steak in the center––bathed in the alioli. Decorate the dish with fried pork.
We have more recipes for you!
Delirio Texano (chimichangas)
Sueños de mi pueblo (Modern quesadilla)
Come and visit Casa Sauza, our chef will prepare the best tequila-based meals you'll ever have. Have a Tequila, at Tequila, Jalisco!