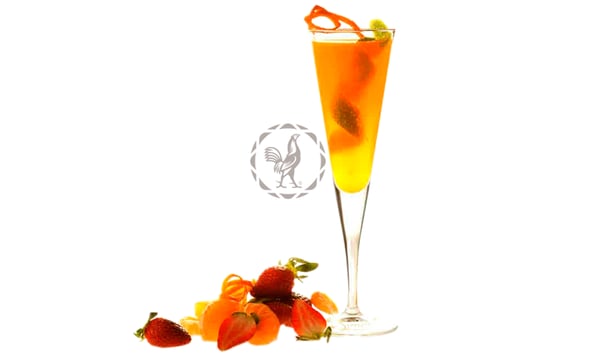 Recipe made so you can enjoy the flavors of both Mexican and American cultures thanks to the combination of the characteristic wood notes of both bourbon and tequila. A cocktail of perfect balance between citrus and bitter notes.
Ingredients

2 oz Sauza Gold® Tequila
1 oz Jim Beam® Bourbon
0.5 oz Mandarin segments
2 Pices of Mandarin peel
1 oz Agave syrup
0.5 oz Strawberry juice
1 oz Ginger Ale


Garnish
Preparation
In a shaker glass, put the tequila, the bourbon, the mandarin segments and peel, the agave syrup and the strawberry juice.
Crush it all with a pestle
Shake vigorously for 25 seconds, add ice and shake for 1 more minute
Presentation
Serve in a long glass and add the Ginger Ale at the end. Finally, garnish with the lemon peel.
Thirsty for more? Find more drinks made from tequilare:
5 Best Tequila-Based Cocktails
Tequila Cocktails: Cenobio Verde
Tequila Cocktails made with Sauza's Hornitos Reposado
How to prepare the best Tequila Sunrise cocktail
Preparing Tequila-Based Cocktails
Come to Casa Sauza and let our bar tender prepare the most delicious tequila-based drinks for you. Have your tequila at Tequila!