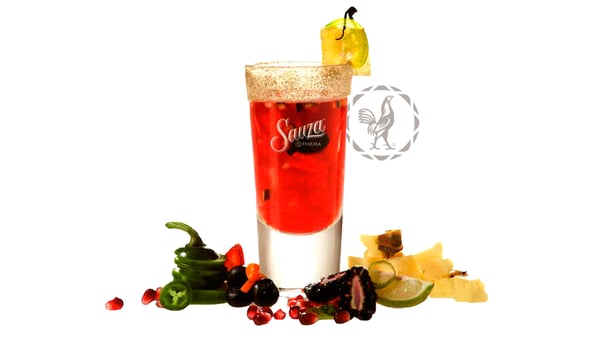 A cocktail born to honor typical flavors of our contemporary Mexico. Fruits and chili (chile-hot peppers) are everyday Mexican ingredients, and they are characteristic of this drink. We add some Hornitos® Plata Tequila, and we get a very Mexican drink, perfect to pair with one of our recipes or even all by itself!
This recipe serves 1 person and takes 5 minutes to prepare.
Ingredients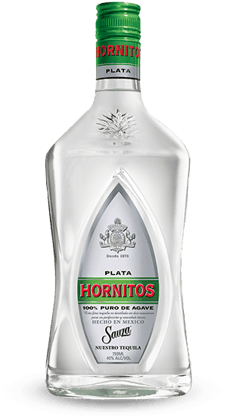 1.5 oz Hornitos® Plata Tequila
30 g sliced strawberries
60 g cherries and wild berries
1 slice of Jalapeno Pepper (chili)
60 g of pineapple, sliced, no skin
1 oz agave honey
0.5 lemon juice
5 or 6 ice cubes
15 g chile salt*

Decoration:
1 slice of jalapeno pepper
1 slice of lemon
Preparation
In a cocktail shaker, mix the fruit, chili, and pineapple and crush with mortar until all the juice is released. Add the agave honey, lemon juice, and Hornitos® Silver Tequila.
Shake with enough ice in the shaker until the walls freeze.
* Chile Salt: Blend 2 dry chilies (without seeds- cayenne pepper will do the trick) with 40 g of salt and let it all dry for 1 hour in the sun.
Presentation
Frost the rim of a shooter glass with the chile salt*.
Double strain the cocktail (Hawthorne strainer and fine mesh strainer) and serve in the shooter glass.
Cut a lemon (square shape it) and add a thin slice of jalapeño pepper at its center.
Enjoy!
For more cocktails made with tequilas, click below:
5 Best Tequila-Based Cocktails
Noche con Estrella Tequila Cocktail
"Sauza Republic" Tequila Cocktail
Come and visit Casa Sauza; our bartender will prepare the best tequila-based drinks you'll ever have. Have a tequila-based drink right at Tequila, Jalisco!