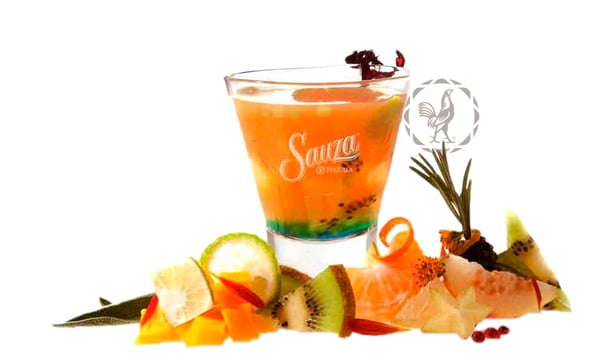 This cocktail made with Hornitos® Reposado Tequila enhances the notes of fresh fields and raw agave. Its combination of tastes: fruits, herbs and citrus fruits, leaves a fresh tase in the mouth. It is very easy to prepare.
Serves 1 person
Preparation time: 5 minutes
Ingredients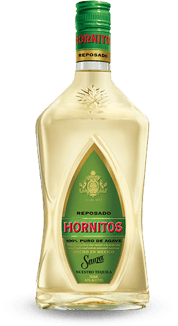 1.5 oz Hornitos® Reposado Tequila
1 Slice of pink guava. Remove seeds.
1/2 Sweet orange segment
1/2 fresk kiwifruit, diced
1 oz Mandarin juice
1.5 oz Lemon juice
0.5 oz Sweet lime juice
1 oz Starfruit juice
1.5 oz Agave syrup
5-6 ice cubes
10 g Pink pepper
Blue Heaven*
1.5 oz Curacao liqueur
1 oz Agave syrup
Garnish
Preparation
In a shaker glass pour the Hornitos® Reposado Tequila, add the solid fruits, the juices and the agave honey and crush with a pestle until the juices come out. When you are done crushing, add the pink pepper and shake for 30 s. Strain.

Presentation
Serve the cocktail mixture in a Boston glass and pour a spoon of Blue Heaven * (it will go to the bottom).
Add the sage leaf for decoration.
Curious for another cocktail with tequila recipe? Find some more here:
5 Best Tequila-Based Cocktails to Prepare with Tequila Sauza
"Sauza Republic" Tequila Cocktail made with Tequila
Bloody María. Cocktail made with Tequila
Cocktail Made With Tequila: Campanita Cocktail
Cocktail made with tequila: Tequi-ccino
Come to Casa Sauza and let our bar tender prepare the most delicious tequila-based drinks for you. Have your tequila at Tequila!