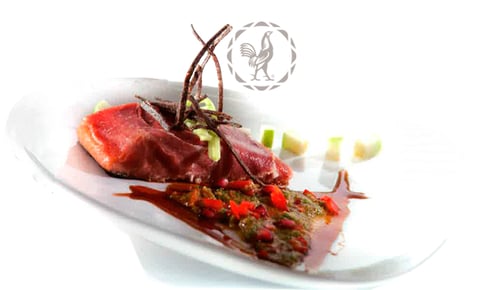 A delicious combination of fresh salmon and serrano ham. It is served with an apple chutney made with Tres Generaciones® Reposado Tequila. Its exceptional fresh juice-based sauce will leave you captivated.
Enjoy this delicious serrano ham and salmon with tequila!
This dish serves 5 people and it only takes 35 minutes to prepare it.
Ingredients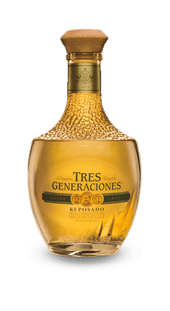 Apple and chili chutney:
50 ml of Tres Generaciones® Reposado Tequila
1 Tsp butter
1 green apple, diced
2 Tsp of blond raisins
50g of dry chile de árbol (or cayenne pepper) (without seeds and chopped)
75 ml rice vinegar
1/2 tsp sugar
2 Tsp fresh mint
Salmon:
1 pink salmon fillet
Salt (to taste)
White pepper (to taste)
200 g of serrano ham, in slices
Olive oil (to taste)
Salsa:
100 ml sweet lime juice
50 ml orange juice
1 Tsp fresh ginger, chopped
2 Tsp chinese parsley, chopped
25 g coriander, chopped
2 Tsp butter
1 tsp ground paprika
Preparation

Apple chutney:
In a deep frying pan, place the apples, butter, and the Tres Generaciones® Reposado Tequila. Cook at low temperature until a thick, lumpy consistency is obtained. Add the raisins and the chile de árbol. Afterwards, add the rice vinegar and let cook. Season with sugar and chopped mint. Adjust seasoning to taste (a bittersweet flavor is what you are going for). Set aside.

Salmon:
Cut the salmon into medallions or 200 g slices, season with salt and pepper to taste. Wrap with slices of Serrano ham and cook on a frying pan with a little olive oil.

Sauce:
In the same pan where the salmon was previously cooked, place the sweet lime and orange juice. When it starts boiling, add the ginger, chopped parsley and coriander. Blend it all and strain. Return to the same pan and cook at low temperature. Adjust seasoning and emulsify with the remaining butter. Season with paprika at the end.

Plating
Serve the salmon with the chutney on a plate. Top with the sauce and fresh green apple dices.
Know more about other recipes of Mexican cuisine made with tequila and enjoy. Bon appétit !!!
"Antojito de la esquina" (Modern version of Mexican "Al pastor" street food)
Salpicón (Mexican shredded meat)
Come and visit Casa Sauza, our chef will prepare the best tequila-based dishes you'll ever have. Have a tequila-based dish right at Tequila, Jalisco!