TEQUILA-MAKING PROCESS AT CASA SAUZA
The tequila process begins in the agave fields when the plants are selected to be cut and taken to the factories for transformation. Later in the factory, the processes of Grinding, cooking, fermentation, distillation, maturation, filtration, dilution, and packaging follow.
Discover the tequila manufacturing process from the planting of the agave to the packaging step by step. Casa Sauza has designed an approach different from the traditional one that allows preserving the purity of the agave in all the steps to ensure the evolution to the best tequila.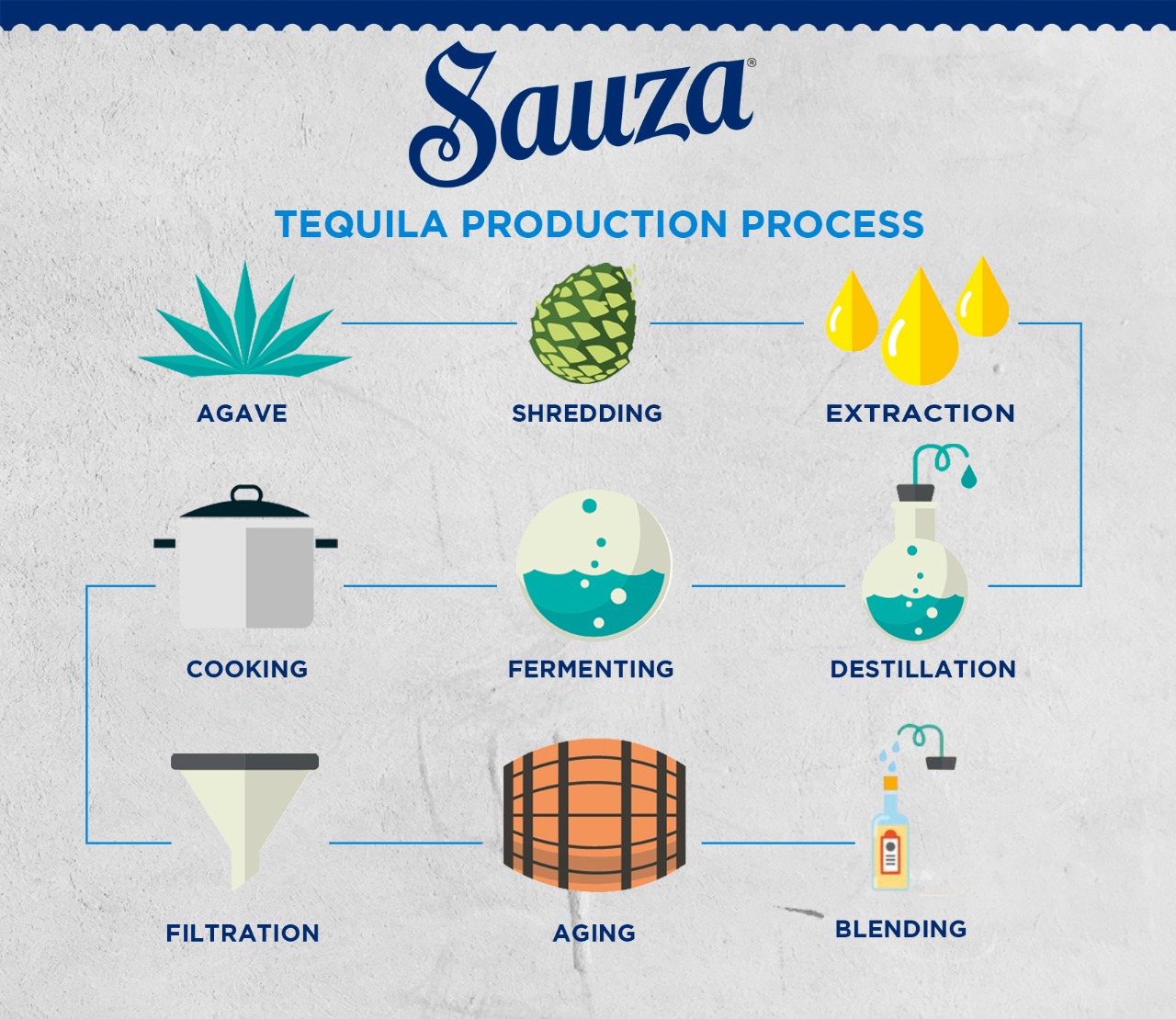 5FERMENTATION
Anaerobic fermentation is carried out in stainless steel tanks using a proprietary blend of yeasts and nutrients. Each round ferments for 24-28 hours with varying temperatures, from 32°C (89.6°F) to 37°C (98.6°F). Sauza's fermentation process is fast and clean because we use closed tanks and an automated cleaning process that guarantees a safe tequila product.
6 DISTILLATION
The first distillation process takes place in steel distillation columns, during which water is removed and alcohol is concentrated from fermented agave juice. The second distillation takes place in stills to obtain tequila with a range of 55-65% alcohol, depending on the brand. All of the distillation by-products are treated in a wastewater treatment plant, in full compliance with environmental regulations.
7 FILTRATION
Every tequila is filtered using slightly different methods. We use carbon filters, through which tequila is filtered through in cold temperatures to remove the excess fatty compounds that give tequila a cloudy appearance. Other filtration processes assure that there are no particulates present in the liquid, and ultimately work to give our tequila a shiny finish..
8 AGING
"Reposado" tequila is aged in white oak wood containers for at least 2 months. Aged, or "añejo" tequilas are kept in white oak barrels for at least 12 months, and extra-aged tequilas are kept in white oak barrels for at least 36 months.



All of the containers and barrels are made from American white oak with a smoky finish, which complies with the Sauza's standards, and are used only for aging processes..